One bad inning per game dooms
BHS

baseball team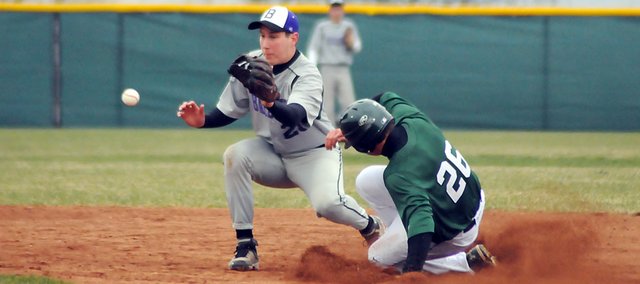 Ottawa — Finding that third crucial out has been a problem at times for the Baldwin High School baseball team during its opening pair of doubleheaders.
Tuesday's night's action here was a good example of that as the Bulldogs were swept by the Cyclones, beginning the season 0-4. They also lost both games at De Soto on Thursday.
"We've got the case of not being able to get out of that one terrible inning," coach Brian Turk said. "It's cost us in three of the four games. A lot of it has been with two outs. That goes back to understanding how to compete and get out of those situations. We don't know how to win and that's something we have to develop. It's going to take time. I'm stressing to the guys to be patient, but at the same time, we need more focus in those situations to get out of that."
On Tuesday, the Bulldogs were tied 6-6 after the top of the third inning. Then Ottawa's offense scored seven runs in the bottom of the inning. Those runs were too much to overcome as BHS lost 15-6.
In the second game of the doubleheader, the fourth inning doomed the Bulldogs. Ottawa scored two runs in the third inning to take a 2-0 lead. In the fourth inning, Ottawa scored seven runs after recording two outs. Ottawa won the game 10-0.
"Our pitchers have battled," Turk said. "We've just given them too many extra outs. In the first game, we gave 10 or 12 extra outs. Those extra outs have given our opponents more chances to score runs and they've taken advantage of those opportunities. We're not giving ourselves those opportunities. We continue to dig ourselves a hole. Then we're buried and we can't get out."
Despite the defensive troubles Tuesday, Baldwin did have some offensive highlights. Senior Kyle Pattrick and junior Hunter Burkhart each hit a home run. Pattrick hit a two-run home run, scoring senior Nate Growcock. Burkhart's hit was a solo shot.
In the first game, seniors Jesse McDaniels, Justin Vander Tuig and Will Von Bargen each scored runs for Baldwin.
"We definitely made strides this pair of games compared to Thursday," Turk said. "We've worked on some stuff since then. We had much better at-bats in the first game, but in the second game we lost of focus. That showed at the plate with bad swings and bad technique."
On Thursday, Baldwin lost 16-1 in four innings and 10-6 in the second game. In the first game, BHS gave up 10 runs on two outs in the third inning.
The Bulldogs will play a doubleheader at Wellsville today. They will host Spring Hill on Tuesday at home. Both doubleheaders will start at 4:30 p.m.
"It doesn't get any easier," Turk said. "We've got to go back and go to work. Wellsville was in the state tournament last year. We also got hit with a slight injury bug, but we hope to get them back soon. We can only go up from here."