Largest crowd ever recorded at Wellness Festival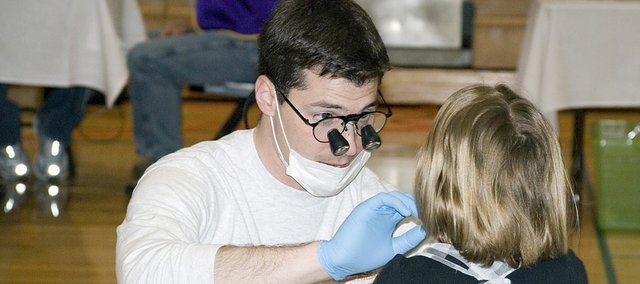 Mary Beth Strobel was motivated to attend the 10th annual Community Wellness Festival because of the 5-kilomter community run/walk, which she found out about through friends.
However, after the run, Strobel joined others in taking advantage of free screenings during the festival.
"It's great for a community like this, because I took time and did a bone density check and it was great to find the results and not have to worry about making an appointment and going into the doctor and then sitting, spending a whole day doing that," Strobel said.
The festival, which ran from 9 a.m. to noon Saturday in Baker University's Collins Center, contained 75 booths and exhibits from both Baldwin City and other area practices.
"Saturday was absolutely awesome," said Ruth Sarna, Baker University's director of student health services. "I think it was the best ever in the 10 years we've done the fair. I think we had more than 400 people. It was fantastic.
"We got rave reviews from the community for putting on the event," she said. "I'm just thrilled that Baker and the community combined to present this event."
Those who attended could get free health tests, including hearing, vision and blood pressure, as well as have blood tests taken. Prizes were also given away, including bicycle helmets, t-shirts and four bicycles.
"The bicycle helmets were a big hit," Sarna said. "We gave away 96 helmets. That's exciting for the children of the community."
Baldwin City dentist Chris Leiszler had a booth at the festival for the fourth year. His booth was offering free mouth and teeth screenings.
"If nothing else, it at least brings the importance of your health and wellness to the front of your mind and it's something that's too easily put to the back with as busy as people are these days," Leiszler said. "But it's a great service, it gets people focused on their health and obviously it's important to a lot of people because of a great turnout."
Leiszler was amazed with the amount of people who attended the festival Saturday, and said, "this just shows how unique of a community we have and it's wonderful."
This was the first festival Strobel attended, but she said she would come back next year. While Saturday marked the 10th year of the festival, Leiszler believes the festival will continue for a number of years.
"This will go on forever," Leiszler said. "All credit to Ruth Sarna and hopefully there's enough other people to carry the torch for her if she ever decides to hand it off to someone else."