BHS

softball squad remains positive after dropping four straight games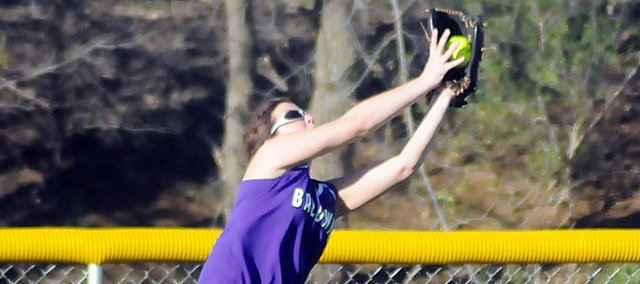 Ottawa — While it's hard to think positively after four straight losses, Baldwin High School softball coach Ginger Crist felt better Tuesday than she did Thursday night.
Crist, who is in her first year as the Bulldogs' head coach, was much happier here Tuesday than after losing at De Soto last week. Her Bulldogs (2-4) have dropped four games after beginning the season 2-0.
"We definitely looked better than we did Thursday," Crist said. "We are learning. We are taking baby steps and we're heading in the right direction. Our base running looks a lot better. Our hitting came around tonight. Defensively, we are starting to get there."
On Tuesday, the Bulldogs were swept by the Cyclones. They lost 8-6 and 13-7.
"Tonight was a better night," sophomore Kaitlin Jorgensen said. "We kept our heads in the game and played as a team. We played well tonight."
In the first game, Baldwin fell behind early but scored two runs in the third inning. Seniors Aspen Brooks and Morgan Burton each scored runs for the Bulldogs. Jorgensen added another run in the sixth inning.
Heading into top of the seventh inning, Baldwin trailed 8-3. BHS began rallying in the last inning. Senior Kyla Good, freshman Hailey Cope and junior Kaysha Green each scored for BHS. Jorgensen and junior Madeline Brungardt were standing on second and third base when Brooks struck out, ending the game.
"They never gave up," Crist said. "The girls kept fighting. That's a bonus, too. We've been working on that aspect of the game."
Baldwin carried its offensive momentum into the second. In the first inning, the Bulldogs scored four runs. Their first four batters — Brungardt, Brooks, senior Karlee Beach and Burton — each scored a run to start the game.
Ottawa rallied and scored three runs in the bottom of the inning. The Cyclones continued to score each inning. They also added three runs in the second inning.
The Bulldogs tied the game at 6-6 in the third inning, but the Cyclones' offense was too powerful during the next three innings. Ottawa added seven runs in three innings en route to its 13-7 win.
"Ottawa is always a pretty good team," Crist said. "I feel like we hung in there pretty well. We fell just a couple hits short. I'm also trying to get the girls to sacrifice their bodies a bit more on some pop flies. In the second game, we did that. We had the outfield really hustling to back each other up, which is what we are trying to work on in practice. It's the little things and they are staring to come around. We will be OK."
On Thursday, the Bulldogs lost both games to De Soto. They lost 11-0 in the opener and 8-7 in the second game. The Bulldogs led 7-4 in the seventh inning of the second game, but allowed a late rally by the Wildcats
"Thursday was kind of a hard night for us," Jorgensen said. "We get all nervous when we play them, but we shouldn't be. That's what got us in the first game. We played better in the second game, but couldn't finish."
Baldwin's next doubleheader will stat at 4:30 p.m. Tuesday at home. BHS will host Spring Hill.
"It will be nice to be at home," Jorgensen said. "We get to have our own warm-up song before we bat, so that will be pretty fun."