BHS

track teams sweep home meet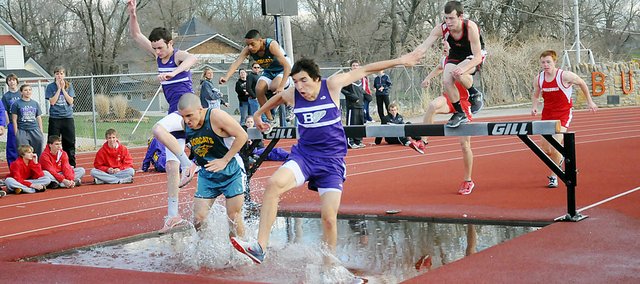 Baldwin High School's track and field teams got off to a fast start and finish Friday at home.
Both BHS squads ended the meet with victories in the 1,600-meter relay to win the Baldwin Invitational team titles.
The BHS girls won the final race by nine seconds. The Bulldogs scored 200 points to win the season-opening meet. Lansing finished runner-up with 89 points.
On the boys' side, Baldwin edged out Lansing in the 1,600 relay. In the final team results, Baldwin scored 127.5 points to win. Olathe Northwest finished second with 113 points.
First-place finishes
BHS girls
400-meter dash — Morgan Lober, 1:00.32
800-meter run — Kaitlyn Barnes, 2:24.5
300-meter hurdles — Myranda Behrens, 48.58
2,000-meter steeplechase — Abi Hartzell, 8:44.25
1,600-meter relay —Kaitlyn Barnes, Elizabeth Sigvaldson, Lyndsey Lober, Morgan Lober, 4:13.11
3,200-meter relay — Carol Whaley, Elizabeth Sigvaldson, Morgan Lober, Kaitlyn Barnes, 10:11.35
Discus — Allison Howard, 120-11
Javelin — Monica Howard, 115-7
BHS boys
300-meter hurdles — Carson Barnes, 41.23
2,000-meter steeplechase — Tosh Mihesuah, 6:53.67
1,600-meter relay — Asher Hannon, Carson Barnes, Chad Berg, Brian Wright, 3:31.77
3,200-meter relay — Chip Kueffer, Kyle Garcia, Ethan Hartzell, Tosh Mihesuah, 8:47.25
Shot put — Jesse Austin, 49-4 ½
Discus — Dayton Valentine, 148-10