Senior night fuels
BHS

volleyball squad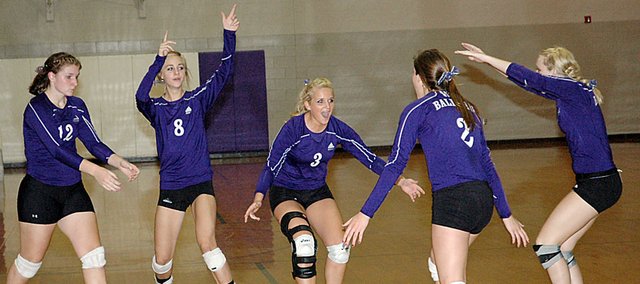 After Tuesday's performance, Kelly Brown might be wishing her Baldwin High School volleyball team could celebrate senior night before every match.
The Bulldogs (7-7) accomplished a pair of goals at home Tuesday night as they beat Louisburg (10-7) in four games. The main one for the players was winning their senior night. It was the final home contest for four BHS seniors.
"It's so awesome," senior Lindsey Roberts said. "I'm so glad that we got a win on senior night. It's made my whole year. It's such an incredible feeling."
Senior Lyndsey Lober played her first match of the season Tuesday. She suffered a knee injury last spring during track season and hasn't been able to play this fall. She played a few minutes Tuesday and was thrilled to win.
"It's crazy to be on the court with the girls again," Lober said. "I feel like it's been a year, rather than six months. It's awesome. I loved it – for the whole two serves I was in for tonight. It feels good to win on senior night."
Baldwin's victory over the Wildcats was also its first Frontier League win of the season. BHS fell to Spring Hill, Paola and Ottawa during the past three weeks. All of those were forgotten Tuesday.
"We came into this night with a lot of enthusiasm," Brown said. "We had a lot of talks about bringing the enthusiasm we have to the court and getting over these long stretches of playing once a week. We finally did it tonight. We had a lot of spirit with senior night ,and I think that helped push us through to the win."
Roberts also said the league win was important.
"It was a really good night," she said. "We were really ready tonight. We prepared all week and worked hard to get our name back in the league race. I think we proved it tonight."
The first game of the night was a seesaw battle between both teams. Baldwin took a slight lead near the end and held on to win 25-23. BHS used that momentum and rolled over the Wildcats in the second game, 25-15.
Baldwin was unable to close the match out in three games. Louisburg took advantage of a few Baldwin mistakes and won the third game 25-20. However, Baldwin responded in the final game.
The Wildcats jumped out to a 4-0 lead in the fourth game, but Baldwin fought back during the middle of the game. BHS controlled the final 10 points of the game, winning 25-20.
"We got confident early and then a little bit lazy, and it showed," Lober said. "Our communication lacked in the third game, but we brought it back in the fourth game for the win."
The Bulldogs' coach was proud of her players' mental toughness. It's been an area of their game she's stressed to her players.
"We are starting to get our mental toughness back," Brown said. "We didn't have a lot of mental errors tonight. That's what we've talked about a lot."
Brown and Roberts said the Bulldogs' blocking and defense were great against Louisburg.
"We've been working non-stop on setting our blocks," Roberts said. "Now that we have those, it takes so much pressure off of our defense and we are able to work together."
Baldwin will play Saturday in the Wellsville Tournament. They will start playing at 10 a.m. The other schools in their pool are Anderson County, Osage City, Waverly and Wellsville.