Parents respond to possible closing of rural schools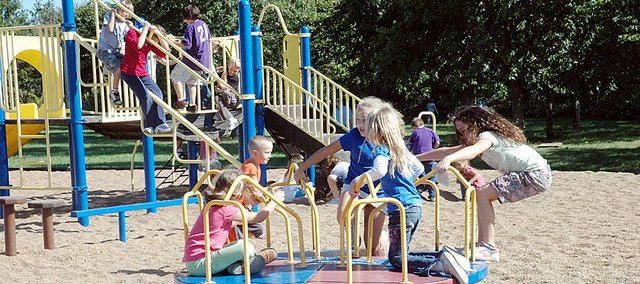 Although the issue was dormant for nearly three months, it's clear the passion of advocates of Baldwin USD 348's two rural elementary schools haven't cooled.
Parents and students from the outlying elementary schools in the school district continue to make their case for Marion Springs and Vinland elementary schools. MSES and VES combine to house 138 out of the 1,437 students in the Baldwin School District.
"I have seven kids that all go to or went to this school district," said Lisa Smith, VES parent. "I still want to keep Vinland Elementary open. Ten years from now when I don't have kids in Vinland, I am still going to want that school open."
Other parents have chosen MSES for their children's early education. That's why they hope it remains open.
"As a parent, education is an important subject," said Kim Beilfuss, MSES parent and Community Service Organization president. "Our children spend eight hours a day, five days a week with the same group of kids and teachers. This school is their second family.
"From a CSO president perspective, MSES represents the foundation of our community. Our school has a 25 percent out-of-district/ indistrict transfers enrollment. Those families choose to drive their children to this school for its high standard of education. It's hard to put into words what a school truly means, but if someone said Baldwin has to merge with Wellsville, I'm sure everybody would stand together to keep that from happening. The rural schools feel no different. We help make this district unique by offering a smaller atmosphere for excellent learning."
When budget cuts were being discussed last spring, the school board considered the possibility of closing the rural elementary schools.
In the proceeding months, dozens of parents and patrons of the rural communities let their feelings be known to the school board. They sent letters, e-mails and petitions to the board trying to keep their schools open.
Once the school board received notification that additional cuts weren't coming this summer, the topic was dropped. However, Superintendent Paul Dorathy said the school board should to make a decision on the issue this year, preferably by December, because more state funding cuts could be on the way.
The topic of closing the rural elementary schools came up at the Sept. 20 school board meeting. Dorathy informed the board that there is a required process for closing a school, which includes a public hearing.
"The board members have made up their minds," Smith said. "They aren't going to listen to us at the referendum they are setting up. They are doing it because it's a formality."
A large crowd is expected at the Oct. 11 school board meeting. The board will meet Monday to set a date for the public hearing on closing the schools, but there will be no public comment at the meeting. There will be public comment allowed at the regular meeting on Oct. 11. The rural patrons are still ready to voice their opinions and concerns about consolidation.
"We're carefully watching how the board chooses to spend our tax dollars," Beilfuss said. "We have gathered signatures on petitions, written many e-mails to our BOE, contacted our Legislature, researched numbers and attended every meeting."
In the end, class sizes are one of the major issues with the parents. Most elementary classes in the district have from 15-20 students. If the schools were consolidated, those classes would increase to 20-25 students.
"Keeping the rural schools open guarantees smaller classes sizes K-5," Smith said. "Closing those school is going to kill two rural communities. That's what our communities are built around are these two schools. If they close our school down, we won't have the Vinland community. We will be part of the Baldwin community.
"We as parents try not to upset our children, but they know that our schools are going to close," she said. "It's sad because they are crying. If our schools close, our community parents and children will be shedding tears."