Late goals add up against
BHS

soccer team in 4-1 loss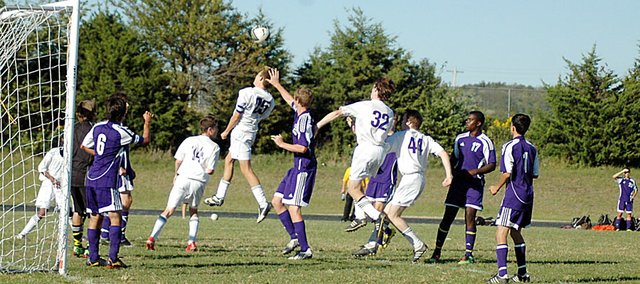 It was déjà vu Tuesday for the Baldwin High School soccer team.
For the second time this season, the Bulldogs played Spring Hill, who is ranked No. 4 in the state in Classes 1A-4A. The Bulldogs lost the first contest 5-0 after Spring Hill scored a couple of late goals.
Baldwin had the Broncos on the verge of an upset for nearly 20 minutes in the second half, but couldn't take the lead. Spring Hill broke the tie Tuesday and again scored two late goals as beat Baldwin (5-3-1) 4-1.
"It was a hard-fought game," coach Mark Joslyn said. "We were in it for a long time and had it tied late in the second half. I'm happy with our effort and the fact that we responded after halftime against a good team."
BHS senior Joey Cool was disappointed with the loss.
"That really hurt," Cool said. "We tied it 1-1 and then they got that one goal on us to take the lead. They got a couple of lucky ones at the end. It hurts."
Both teams played scoreless for 35 minutes of the first half. Spring Hill scored the first goal of the game off of a corner kick with 4:08 remaining in the half.
Baldwin responded during the second half with several shots on goal early in the period. Junior Caleb Michels connected with one shot 10 minutes into the half. Senior Patrick Deitz stopped a ball with his chest before assisting Michels' goal.
"That was a nice shot by Caleb," Joslyn said. "It was a good feed from Patrick. We talked at halftime about getting that equalizer, and we got it, which was really nice."
The next 20 minutes were played with both teams attempting many shots, but nothing hitting the net. The Broncos broke the tie with 11 minutes left in the game. They added a pair of goals during the final three minutes.
"We had several shots, but we wore down," Joslyn said. "They started long balling us and exploiting the middle of the field. They got a couple of goals late on us. It was a 2-1 game pretty much. We are still working on putting together the full 80 minutes. I know they worked hard and they are exhausted, which is good."
Despite the loss, Cool is optimistic about the Bulldogs' season.
"I think we are a whole lot better that we were at the beginning of the season," Cool said. "We are competing with teams like this and we've beaten several other teams.
"We just need to work on putting it in the goal. We've put together our midfield and striking. Now we just have to work on finding the goal."
Baldwin will play at Basehor-Linwood today. The game will start at 5:30 p.m. On Tuesday, BHS will play at 4:30 p.m. at Perry-Lecompton.