BHS

cross country teams run 'steady' at Rim Rock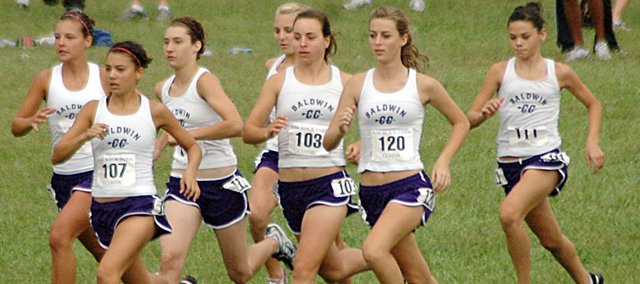 For the first time ever, both Baldwin High School cross country teams finished in the top 11 of the gold division at the prestigious Rim Rock Classic.
On Saturday, the Bulldogs traveled north of Lawrence to compete in the largest meet of the season. They entered in the top division, which included up to 31 teams.
"I was really happy with the way we ran and competed," coach Mike Spielman said. "It's a tough course and there's tough competition. The weather was nice, so that really helped us. It's always a mentally challenging meet, but I thought we did a really nice job. We didn't run anything spectacular, but we ran really steady and that's the thing that we want to do."
The BHS girls finished ninth as a team with 274 points out of 27 teams. They were just 19 points out of sixth place. They were also the third Kansas school, behind Shawnee Mission West (No. 1 in Class 6A) and Saint Thomas Aquinas (No. 2 in 5A).
"We didn't have anyone run a super race and get a medal, but we ran really steady," Spielman said. "If you do that at this meet, you place high as a team. By racing smart, it really helped us out."
Baldwin's boys' squad placed 11th out of 31 teams on Saturday. BHS scored 359 points to tie Blue Springs for 10th, but lost on the tiebreaker, which is the sixth runner's finish. BHS was the fifth Kansas team, behind four top –ranked 5A and 6A schools.
"It felt great to finish near the top," senior Joey LaBuda said. "We all ran better than last year. I thought everyone competed better, too. We beat all of the other league schools and 4A schools, so it was a good meet for us."
Senior Tony Weiss missed earning a medal at the meet by one spot. He finished the 5-kilometer course 26th in a time of 16:41. Freshman Ethan Hartzell was three seconds behind Weiss in 28th place.
On the girls' side, sophomore Sienna Durr led the Bulldogs. Durr placed 34th as she finished the 4-kilometer race in a time of 16:15. Freshman Katie Jones was 44th, as she ran 16:23.9.
"We had some that were close to medaling in several races," Spielman said. "Like I said, we did what we needed to at a tough course. Instead of one or two running well and the rest blowing up, we ran stead as a team. That's what we are looking for on these tough days."
In the junior varsity races, freshman Libby Verhaeghe led the girls' team. She placed 33th out of 112 runners. Senior Carson Barnes was the first JV boy to finish as he took 42nd spot.
Baldwin will be back at home this weekend. BHS will be competing against nine other schools, including SMW and Shawnee Mission Northwest (No. 1 in 6A boys). Both BHS teams are ranked No. 1 in the 4A.
"The two best 6A teams are coming here," Spielman said. "It will be the third straight week we've raced the Shawnee Mission West girls, so hopefully we can close it down this week. It should be a good meet."
There will be four junior high school races every 15 minutes, beginning at 8:30 a.m. Saturday. The varsity boys will run at 9:30 a.m. with the varsity girls to follow at 10 a.m. The JV boys and girls will follow.
"I'm thinking we should run faster times than we did at Rim Rock," LaBuda said. "I'm hoping for a first-place team finish and maybe we can ran our fastest times, too."