Baldwin High to celebrate homecoming Friday
Parade will feature movie sagas; Crowning ceremony at halftime of football game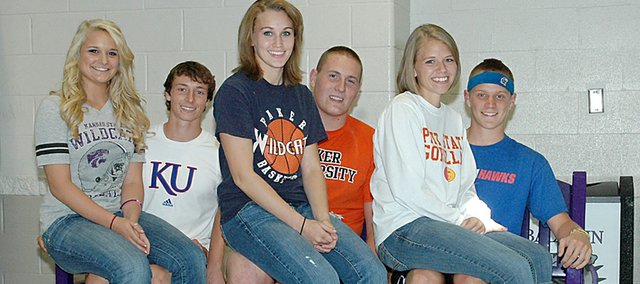 After a week of pep rallies and spirit days, Baldwin High School students will celebrate their annual homecoming Friday.
BHS will once again be having a homecoming parade Friday through downtown Baldwin City, which will take place hours before the crowning ceremony at the football game. The parade will start at 4 p.m. at the District Office, located at the corner of Eighth and Chapel streets.
The parade route will head south on Eighth Street and stop at the corner of Eighth and High streets. Then it will head east on High Street and finish at Fifth Street.
"We hope it's a bigger crowd than previous years," said Natalie Schmidt-Konkel, BHS counselor and student council co-sponsor. "We're trying to make it bigger and better each year. We invited any other school groups or activities to join the parade."
The BHS parade theme this year is "Movie Sagas." Each grade level was given a different movie saga for the parade. The seniors are "Lord of the Rings," juniors are "Harry Potter." sophomores are "Star Wars" and freshmen are "Twilight".
"I was encouraging them to do it, because it's easy," Schmidt-Konkel said of the freshman class. "All they have to do is put in vampire teeth and wear a vampire cape. It should be easy."
Meanwhile, the seniors' task of decorating for "Lord of the Rings" might be more difficult, according to Colin Thomas, BHS student council president.
"It's going to be tough," Thomas said. "We are up for the challenge. I think it's going to be fun, because we can do a lot with it. The parade is going to be good. We've been working on those since Monday. It should go off really well."
The homecoming king and queen crowning ceremony will occur at halftime of Friday's football game. The game starts at 7 p.m. with halftime starting around 8 p.m. The six candidates will be introduced with their parents before the winners are announced.
The three king candidates are Jesse Austin, Carson Barnes and Kyle Pattrick. The queen candidates are Ally Foye, Claire Glover and Michaela Krysztof.
"We had two pep rallies to introduce the candidates to the student body," Schmidt-Konkel said. "It was sort of their time to showcase their talents."
During the week, the BHS student body has been celebrating spirit days, where they are allowed to dress according to a theme. Monday was college T-shirt day, Tuesday was twin day and Wednesday was wacky hair day. Today is class theme daym and Friday will be purple pride day.
"We had some fun spirit days this week," Thomas said. "We also had some great candidates picked out. It's been a good week so far. Friday should be fun."