Baldwin farm celebrates day just for alpacas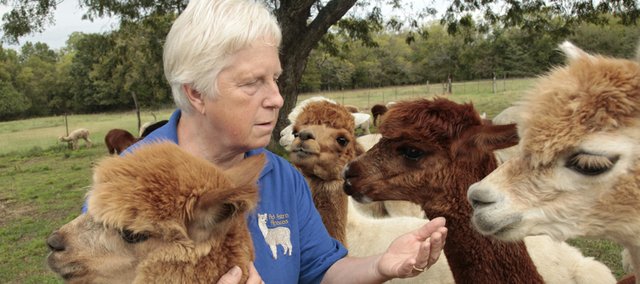 Five years ago, Claudia Hey was looking for animals the could fill the pastures that were once home to her family's dairy cows.
But she had one stipulation: She wanted to raise animals to which she could become attached .
Lucky for her, she found what turned out to be the perfect farm guest — the mellow and tidy alpaca.
"I was struck by how kind of quiet and serene they are. And very friendly, very gentle," she said.
Claudia and her husband, Bob Hey, started out with three alpacas they bought from a farm in Wisconsin.
Seven years and 57 alpacas later, the couple were opening up their farm to visitors Saturday and Sunday as part of National Alpaca Farm Day. Claudia Hey hoped the guests that came to the farm, which is just outside Baldwin City, would learn about alpacas and become as fond of them as she is.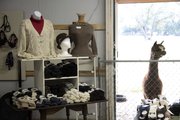 "I think that (visitors) love to feel their fiber and that they are kind of surprised by how gentle they are and approachable, and they love to just touch them and feed them," Hey said.
The newest member of the herd arrived last week born to one of the alpacas on the farm. The animals live to be 20 to 25 years old, giving Hey plenty of time to become attached.
"I just love them," she said.
Borrowing from the Kansas state motto, Ad Astra per Aspera — "to the stars through difficulties" — the Heys named their farm Ad Astra Alpacas.
Hey joked that she wanted to leave the "through difficulties" part of the state motto out of it. Each of the alpacas born at the farm are named after a star or planet, which explains alpacas called Zeus, Mars, Electra and Vega.
"I don't think I'll run out of names in my life," Hey said.
Each spring, the couple shear the animals from head to toe. One alpaca produces about three large bags of fleece. That fleece is then turned into fiber (what would be called wool if it were a sheep) for making socks, hats, gloves and sweaters.
Not far from where the alpacas were penned, Claudia had set up a temporary shop with the alpaca products on display. Some of the items were made from fiber from the Heys' farm, and others were made from the fiber of alpacas living in Peru.
"I think you can say the best thing you could have is alpaca socks because it is a natural fiber," Hey said. "The fiber wicks the moisture away from skin and feet, and you don't have that cold clammy feeling in the winter where your socks feel almost damp."
Along with opening their farm to visitors this past weekend, Ad Astra Alpacas will be one of the stops on the annual Kaw Valley Farm Tour, which is Saturday and Sunday. For more information, go to kawvalleyfarmtour.org.