There's no place like home for Weiss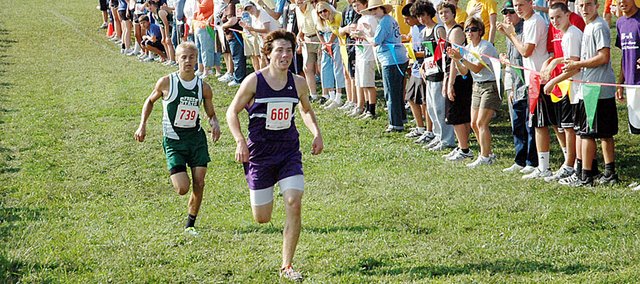 Tony Weiss made the most of his second-to-last run at the Baldwin City Municipal Golf Course.
He led the Baldwin High School boys' cross country team Saturday morning to a first-place finish at the Baldwin Invitational.
"It felt good to win the home meet," Weiss said. "It's nice to have all of our fans coming out. I appreciate everyone coming out and cheering us on today."
The BHS senior held off Free State's Logan Sloan at the finish to win boys' 5-kilometer race in a time of 16:33.31. Sloan finished less than one second behind Weiss.
"It was nice to get my first individual win of the season," Weiss said. "For most of the race, it was a pack of four at the front. With 800 left, it dropped to three. Then, it was a sprint to the finish. My speed came back today, which felt nice. It definitely helps knowing the course."
As a team, Baldwin won the boys' race with 45 points. It was the third-straight team win for the Bulldogs this season. Saint Thomas Aquinas finished second with 73, while Shawnee Mission East placed third with 78 points.
On the girls' side, the Bulldogs lost their first meet of the season. They finished third with 61 points. St. Thomas Aquinas, who is ranked No. 2 in Class 5A, won the meet with 37 points. Shawnee Mission West (ranked No. 1 in 6A) finished runner up by scoring 44 points.
"It was a great day for the boys' team," coach Mike Spielman said. "They ran really well against some good schools. The girls didn't have a bad day, but we may have gone out a little too fast to have a good day against those two schools ahead of us. It was a good day overall."
The BHS boys' team was aided by junior Brian Wright, who finished his first race of the season. Wright finished 10th as the third runner from BHS. Freshman Ethan Hartzell was the Bulldogs' second runner as he finished sixth overall. Junior Tosh Mihesuah and senior Nate Growcock finished 13th and 15th, respectively, for Baldwin.
"I'm pretty pumped," Wright said. "Tony won it, and he's back to his awesome self. Ethan showed that he's a stud freshman and all of the guys showed that they are really strong. It's nice to win the home meet. We had so much support today from parents and friends."
Baldwin's coach was pleased Wright finished the race, because the junior has been plagued with injuries during his BHS career.
"We figured out we are just going to race him every other week and get him going slowly," Spielman said. "It makes a big difference in our team score when he is up there. I'm sure he'd like to be higher, but right now this is a good spot for him."
Freshman Katie Jones was the first Baldwin girls' runner. Jones moved up on the roster after finishing third the previous week at Wamego. She finished the 4-kilometer race in a time of 16:08.34 as she finished fifth.
Sophomore Kaitlyn Barnes also placed in the top 10 with an eighth-place finish. Rounding out the top five were sophomore Sienna Durr (12), freshman Hannah Hutton (16) and junior Carol Whaley (20).
"We had some kids step up and run well with fast times," Spielman said. "Those that went out too fast still ran good times, but they just didn't maximize their effort by going out too fast, especially on a hot, humid day."
Whaley was excited after Saturday's race, because it was her first chance to run on varsity after competing on the junior varsity squad at the first two meets. Varsity squads could run more than the normal seven runners Saturday.
"I was so happy," Whaley said. "I ran almost a minute faster than last meet. It feels really good to get back on varsity. It's fun working with these freshmen."
Spielman and the BHS runners were all pleased with the amount of home support Saturday morning.
"There was a great home crowd," Spielman said. "We had a lot of the parents and families. There were also a bunch of kids from the school who came out and cheered, which was really nice to see."
Baldwin will compete at the prestigious Rim Rock Classic on Saturday. The meet will begin at 8:30 a.m. at the Rim Rock Farm north of Lawrence.
"It's always a challenge," Spielman said. "It seems like you battle everything. It's a big meet, with lots of good schools. Plus you always seem to battle weather and it's a long day. There are a lot of things that test you mentally at Rim Rock, which is good for us."
BHS results
Varsity boys
Tony Weiss, 16:33.31

Ethan Hartzell, 17:06.39

Brian Wright, 17:34.07

Tosh Mihesuah, 17:42.98

Nate Growcock, 18:01.25

Kyle Garcia, 18:06

Brandon Baltzell, 18:20.51

Joey LaBuda, 18:29

Ethan Horne, 19:02.07

Carson Barnes, 19:22.21
Varsity girls
Katie Jones, 16:08.34

Kaitlyn Barnes, 16:25.22

Sienna Durr, 16:31.94

Hannah Hutton, 16:51.29

Carol Whaley, 16:56.43

Elizabeth Sigvaldson, 17:12.83

Ashton Temple, 17:13.21
JV boys
Cory Stephens, 19:14.89

Colton Horne, 20:06.72

Tim Larson, 20:09.23

Colin Thomas, 20:47.29

Clay Thomas, 20:48.25

Trent Russell, 20:58.43

Nick Waltz, 21:01.18

Tucker Clark, 21:35.3

Acea McFarlane, 25:10.44
JV girls
Kelsey Dighans, 18:22.55

Libby Verhaeghe, 18:30.2

Leyena Watson, 18:30.58

Jordan Christian, 19:12.64

Brooke Randels, 19:17.48

Shelby Gregory, 20:46.06

Ally Foye, 20:58.57

Ari Mihesuah, 21:02.85

Kaitlyn Christie, 21:56.56