School board revisits elementary school closings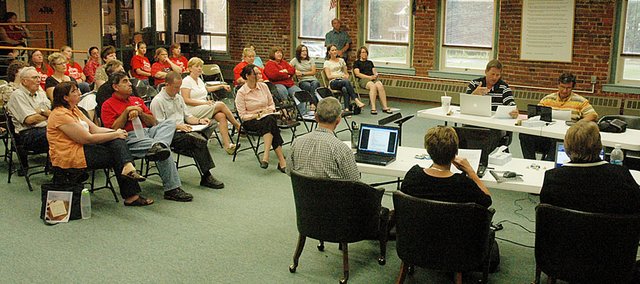 Talk about closing the rural elementary schools in the Baldwin School District resurfaced at Monday's Baldwin Board of Education.
When budget cuts were being discussed last spring, the school board tossed around the idea of closing either Marion Springs Elementary School or Vinland Elementary School or both schools. Patrons on both sides of the issue voiced their opinions from April to July.
Once the 2010-2011 budget was finalized, the board stopped discussing closing the schools. However, that changed Monday.
"The board has heard a lot of information about the subject," Superintendent Paul Dorathy said. "I think they are trying to take their time in making a decision, because it is a big and important decision. I think there are a few months out from making that decision, but they still want to make their deadline of making a decision by December. That decision could come earlier than that, but I don't think they want to go into the next calendar year."
In making his recommendation, Dorathy said it would be tough to choose one over the other.
"If the board is going to move forward with this, I don't think we will save much money by closing one building," he said. "I think if you are going to do this, you have to close both."
On Monday, Dorathy approached the subject by presenting a list of items to the school board. The list included uses for money saved from closing the rural elementary schools. He said each school principal submitted a list of staff and equipment needs.
Dorathy reviewed the lists and presented a strategic plan of priority staffing needs if there was an extra $400,000 in the budget. Teacher raises was the top priority on the list with additional custodial staff being second.
"So the trade off here is the educational experience for the K-5 students versus additional needs and staffing for our entire district," Board member Scott Lauridsen said. "To me, it's a clear decision. I think we should move forward with this."
The next step involved figuring out how Marion Springs and Vinland elementary schools could be moved into the Baldwin Elementary School Primary Center and Baldwin Elementary School Intermediate Center. Dorathy presented the enrollment numbers for this year and maps of BESPC and BESIC if those numbers stayed the same next year.
There would be four kindergarten and first-grade classes and five second- and third-grade classes in BESPC. Then BESIC would continue to house four fourth-grade and fifth-grade classes.
The fifth third-grade class would move into the community room in the new BESPC, while the fifth second-grade class would be placed in the reading resource room across the hall from the second-grade pod. Board Member Ande Parks told Dorathy he didn't like the idea of moving those additional classes.
"I think these are very serious issues, and I think things are getting worse all the time," Parks said. "A big concern I have about our new building is we decided to go with a pod design. I want to make sure we take advantage of that system and incorporate that philosophy as much as possible."
The process of closing a school building involves notification of a public hearing, having the public hearing and finally a resolution passed by the board to close a building.
"There is a process that is spelled out in state law," Dorathy said. "If our board is going to close a building or buildings, they have to follow that procedure. It's a very specific procedure."
The board voted to have special meeting at 6:30 p.m. Oct. 4 to set a date for the public hearing about closing the rural elementary schools.