Hannon's touchdown sparks third straight
BHS

football win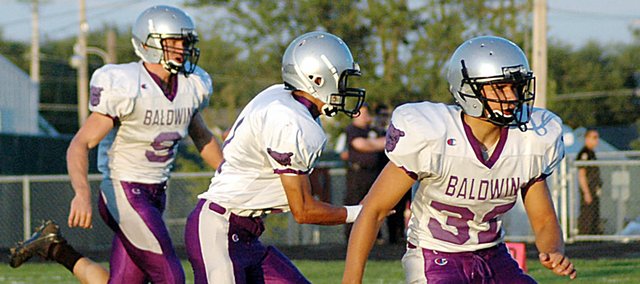 DE SOTO — Asher Hannon's 75-yard interception return for a touchdown sealed the third-straight win for Baldwin High School's football team.
In a battle of previously unbeaten Frontier League opponents, Baldwin left the field as the only team still undefeated. The Bulldogs (3-0) beat the Wildcats 21-7.
"It feels good to be 3-0," Hannon said. "It's exciting. This was a big win, because we both had played the same teams. It ended up being a good game. It was a good win for us."
Hannon's interception clinched the Bulldogs' victory Friday. They took a 14-0 lead early in the fourth quarter after senior Josh Hoffman scored on a 3-yard touchdown run.
De Soto began driving down field on its next drive. The Wildcats marched down to Baldwin's 38-yard line before Jeff Bowen's pass was picked off by Hannon.
The BHS junior cut in and out of defenders while following his blockers for nearly 30 yards. Then he cut back across the field and used his speed to out run all Wildcats players.
"When I caught it, I was ready," Hannon said. "I kept on looking for people to make blocks. I kept cutting and found the seam. It was very exciting. I got to jump all over my teammates after the play."
It was Hannon's first interception return for a touchdown at BHS. His coach enjoyed watching the play unfold Friday.
"That was huge," coach Mike Berg said. "It was fun seeing Asher weaving through everybody. He's got such great speed."
De Soto did score its only touchdown of the game three minutes later on a 7-yard run from Bowen. Baldwin responded by driving 35 yards and eating up 4:35 of the clock. Hoffman punted for the final time, and the Bulldogs' defense held the Wildcats out of the end zone on their final drive.
"It was a very physical game," Berg said. "I'm so proud of our kids. They fought the entire way. That's Baldwin football. We try to control the clock, and that's what we did. You have to hand it to De Soto. They were 2-0 for a reason. They are a good ball club with lots of speed. I think we corralled them for the most part and kept them inside."
Some of the BHS players were happy to beat De Soto after losing 14-7 last year. BHS led 7-0 a year ago before giving up a pair of fourth quarter touchdowns to De Soto.
"This is a nice redemption from last year," senior Tyler Schneider said. "The team is doing well, but we have a long ways to go. We have to work on our tackling a little bit, but we will work on things in practice."
In the first half Friday, Baldwin had possession of the ball inside De Soto's 20-yard line three times, but only came away with seven points. BHS marched the opening drive of the game down to the De Soto 10 yard line, but turned it over on a failed fourth-down attempt.
The Wildcats fumbled on its third play from scrimmage, giving BHS the ball on De Soto's 19 yard line. Another failed fourth-down attempt resulted in a BHS turnover.
On its next possession, the BHS recovered another Wildcat fumble. Baldwin converted this turnover into a touchdown. Senior Ryan Rogers scored on a 3-yard touchdown run to give BHS a 7-0 lead.
Baldwin also had other offensive miscues in the first half, but still led 7-0 at halftime.
"We've got to take advantage of those turnovers," Berg said. "We should have had a couple scores early in the game, but they stopped us. We dropped a ball in the end zone, and we over threw a guy that would have been a touchdown. We should have scored after they fumbled it on the opening drive. That was a bad play call by me."
Despite its third win, which is one more than last season, Berg said his team can't get complacent because it has at least six games remaining.
"It's a marathon," he said. "I've never run a marathon before, but the football season is a marathon. We told the kids we can't be satisfied with one week's performance. We have to come back each week and work harder to get better. The kids are hungry to keep getting better."
Baldwin will travel Friday to El Dorado for another road contest. The game will begin at 7 p.m.
"It will be a long road trip," Berg said. "It will feel like we are in college. I'm looking forward to it."