District learns of
AYP

success, enrollment increase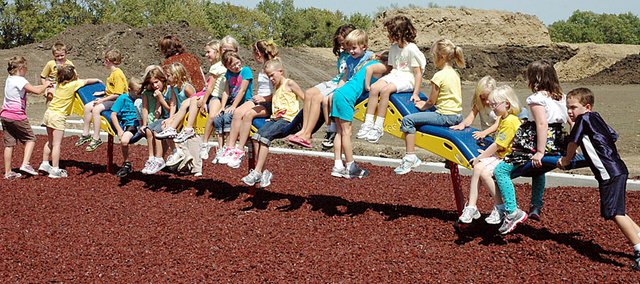 Good news rolled in this week for the Baldwin School District.
The good news should mean more state funding for increased enrollment and no probation period for failing to make adequate yearly progress. Superintendent Paul Dorathy was pleased about both news items.
"It's good news for our district," Dorathy said. "We are proud to make AYP again and increase our enrollment from last year."
The AYP results aren't quite official. The state releases the preliminary results early in the school year, but the official results won't come until next month. That's also the time the state announces what schools made the standard of excellence on the state assessment exams.
In the Baldwin district, all six schools made AYP, according to the preliminary results. Dorathy was happy to know his schools were in good standing with the state.
"The results aren't official until October," he said. "I've seen the preliminary results and those show that all of our buildings made AYP. To me, AYP is important and it's hard to get."
As for enrollment, the official count became official Monday. The official head count in the district is 1,436 students, which is an increase from 1,411 a year ago.
The full-time equivalencey enrollment is what counts toward state funding. The school district projected that number at 1,328 on the 2010-2011 budget. On Monday, Baldwin's FTE was 1,359, which is a jump from 1,336 last year. The district will receive $4,012 more for each additional FTE student that wasn't budget for the 2010-2011 school year, which could mean an extra $124,372.
"We can gain some dollars from our increased enrollment this year," Dorathy said. "It could end up being some very helpful dollars for our budget situation. It's a positive thing.
"It's good news for the district for this school year anyway. It could change next year. It's pretty balanced throughout the entire district."