BHS

volleyball team drops third league contest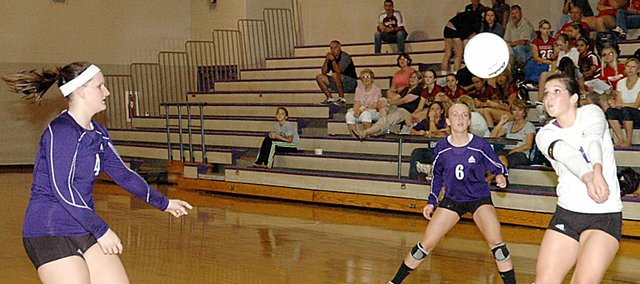 For the first time all season, Baldwin High School's volleyball team won a game on one of its Frontier League nights.
However, that single win wasn't enough to help the Bulldogs (6-7) win Tuesday. They fell to Ottawa (11-4) in four games to drop their third league contest of the season. Baldwin lost its first two league contests to Spring Hill and Paola 3-0 each night.
"We played good at times," sophomore Monica Howard said. "It's just at certain times, we weren't all playing well as a team. We just kind of fell apart at certain parts of the match."
Coach Kelly Brown was pleased with her players' defense Tuesday but said they still had to remain focused for the entire match.
"Our blocking looked great tonight," Brown said. "We are still battling mental toughness, and we've got to get them motivated to play every single ball that comes their way during every single point. I saw some good things tonight, but we still have to work on that mental toughness."
Baldwin's lone win during the match was the third game, after falling behind 2-0 in the best-of-five match. BHS even trailed early in the third game as the Cyclones took a 5-0 lead to start the game.
The Bulldogs clawed their way back into the match to tie the game at 17-17. The two teams traded points until Ottawa led 22-21. After a Bulldogs' points, junior Kaysha Green served three straight points for the victory. Two of her three serves were aces.
"That was an exciting win," Howard said. "We were all talking, and communication is a big part of winning. In our losses, we didn't talk on the court. We worked hard to get back into that third game. We showed some heart by coming back to win that game."
Baldwin's success in the third game didn't carry over into the next game. Ottawa jumped out to an early lead once again. The Cyclones maintained that lead, winning 25-20 to win the match.
"Since we played such great defense at the net in the fourth game, our back row defense wasn't ready for some of the unorthodox plays that came back over the net," Brown said.
Ottawa won the first game 25-21 after scoring the final three points of the game. OHS controlled the second game to win 25-15.
Despite the loss, Brown was proud of her libero and freshman Madeline McCrary.
"Kaysha Green did a phenomenal job tonight on defense," she said. "She has actually been sick, so for her to come out the way she did tonight was great. Madeline McCrary also played great defense. Her and Kaysha were huge in our back row."
Baldwin will host Louisburg at 6:30 p.m. Tuesday.