BHS

soccer beats Louisburg, ties Ottawa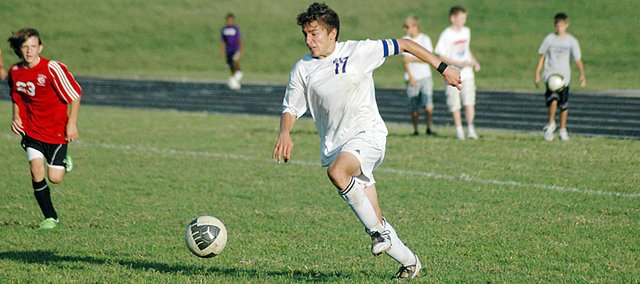 After picking up a tough road win at Louisburg last Thursday, the Baldwin High School soccer team played Ottawa to a scoreless tie Tuesday.
Last week, the Bulldogs extended their winning streak to two games after beating Eudora. They traveled to Louisburg, where the Bulldogs have struggled in previous years and left with a 4-3 victory over the Wildcats, who were ranked in the top five of the state.
"It was a back-and-forth game, but we ended up on top," Joslyn said. "It was the second straight we scored four goals. Last game our forwards scored, but this time it was our midfielders who scored for us. It's good to spread out the distribution."
Baldwin scored first to begin the game 1-0. Senior Patrick Deitz scored his first-ever varsity goal around the five-minute mark of the first half. Louisburg outscored Baldwin during the next 60 minutes and took a 3-2 lead after a penalty kick in the second half.
Baldwin answered back to tie the game and force overtime. Six minutes into overtime, the Bulldogs scored the winning goal.
"We played hard," Joslyn said. "We got behind 3-2, because they were given a PK. Then we scored right back to tie it up, and it went into overtime. About six minutes into overtime, we scored to win the game. It was a nice win after trailing late in enemy territory."
Also scoring goals for Baldwin were freshman Russell Cloon and junior Clint Chapman, who also scored his first-ever goal. However, it was Deitz who had Joslyn talking after the game.
"He was definitely player of the game for us," Joslyn said. "He was very energetic and ran tremendously. He just had a tremendous game."
On Tuesday, the Bulldogs and Ottawa played for 100 minutes and neither team scored a goal. The Bulldogs' record is now 4-2-1.
"Some days it's OK to tie," Joslyn said. "Some days it's just going to happen that way. We didn't come out with the same intensity we usually do, and Ottawa is a pretty good team. It's not a loss, and I was proud of how we played with more energy in the second half."
Both teams took many shots, but none made it past the goalkeepers. Joslyn said the game was a bit sloppy and physical, which contributed to the scoreless tie.
"It was physical and not very pretty," Joslyn said. "We lost our touch on the ball today, which makes the game look a little messy."
Baldwin will play at 4 p.m. today at home against Paola.