BHS

girls' tennis squad competing well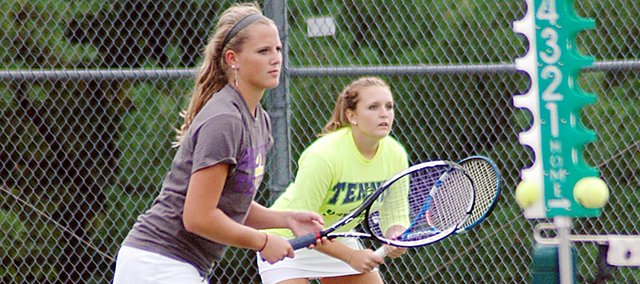 Baldwin High School's girls' tennis squad has been busy playing three tournaments during the past week.
The Bulldogs began their busy week by hosting the Baldwin Invitational Tournament. It was scheduled for last Wednesday, but rain postponed it to last Thursday.
Baldwin came away with one victorious doubles team and a second-place finish in singles action. The No. 2 doubles team of juniors Hayley Schwartz and Kara Hoegerl went undefeated in its pool and bracket.
"They played really strongly at times and really loose at times," coach Justin Hoffman said. "The good thing was when they played loose, they had a big enough lead that it didn't affect the match as much."
Sophomore Kaitlin Jorgensen finished her day at No. 2 singles 4-1. She placed runner-up at the tournament.
"KJ played well all day," Hoffman said. "She is starting to play well, but she still has some things to work on."
Senior Kara Protasio played No. 1 singles, while senior Michaela Krysztof and junior Alison Berg played No. 2 doubles for the Bulldogs.
"Both of our doubles teams are really even," Hoffman said. "Michaela and Alison going 2-2 against state level competition is pretty good. Kara also played strong all day. That's the thing about playing No. 1 singles or doubles is you're going to get the best players from the other teams."
On Saturday, the Bulldogs traveled to Lindsborg for the Smoky Valley Invitational before playing Monday at Topeka-Hayden. At Hayden, Schwartz and Hoegerl went 2-1 as No. 2 doubles to lead the Bulldogs.
Hoffman was proud of both singles players for their performances on Monday.
"KJ played really well in her last match," Hoffman said. "She is starting to put some of her shots together. She's been coming back from being sick, too.
"Kara played pretty well," he said. "She played really well against the Hayden girl who beat the state champ this summer. Kara played her to a tough 8-5 match. It was a good match."
Baldwin will host a round robin tournament Saturday at home. It will start at 9 a.m.