BHS

boys cross country team wins home invitational
BHS

girls fall to top 5A, 6A teams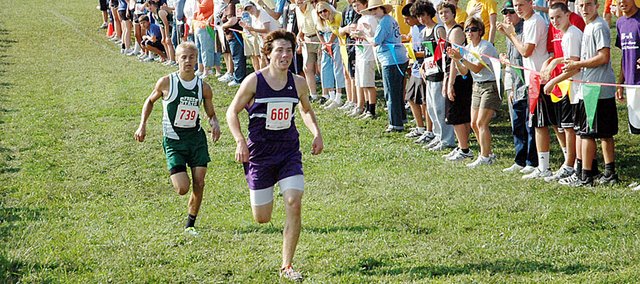 Tony Weiss led the Baldwin High School boys' cross country team to a first-place finish at the Baldwin Invitational on Saturday morning.
The BHS senior held off Free State's Logan Sloan at the finish to win boys' 5-kilometer race in a time of 16:33.31. Sloan finished less than one second behind Weiss.
"It was nice to get my first individual win of the season," Weiss said. "For most of the race, it was a pack of four at the front. With 800 left, it dropped to three. Then it was a sprint to the finish. My speed came back today, which felt nice. It definitely helps knowing the course."
As a team, Baldwin won the boys' race with 45 points. It was the third straight team win for the Bulldogs this season. Saint Thomas Aquinas finished second with 73, while Shawnee Mission East placed third with 78 points.
"It felt good to win the home meet," Weiss said. "It's nice to have all of our fans coming out. I appreciate everyone coming out and cheering us on today."
The Bulldogs were aided by junior Brian Wright, who finished his first race of the season. Wright finished 10th as the third runner from BHS. Freshman Ethan Hartzell placed sixth for the Bulldogs. Junior Tosh Mihesuah and senior Nate Growcock finished 13th and 15th, respectively for Baldwin.
"I'm pretty pumped," Wright said. "Tony won it and he's back to his awesome self. Ethan showed that he's a stud freshman and all of the guys showed that they are really strong. It's nice to win the home meet. We had so much support today from parents and friends."
On the girls' side, the Bulldogs lost their first meet of the season. They finished third with 61 points. St. Thomas Aquinas, who is ranked No. 1 in Class 5A, won the meet with 37 points. Shawnee Mission West (ranked No. in 6A) finished runner up by scoring 44 points.
Freshman Katie Jones was the first Baldwin runner. She finished the 4-kilometer race in a time of 16:08.34 as she finished fifth. Sophomore Kaitlyn Barnes also placed in the top 10 with an eighth-place finish. Rounding out the top five were sophomor Sienna Durr (12), freshman Hannah Hutton (16) and junior Carol Whaley (20).
There will be a full story and photos in Thursday's Signal.