Michels' hat trick propels
BHS

soccer to victory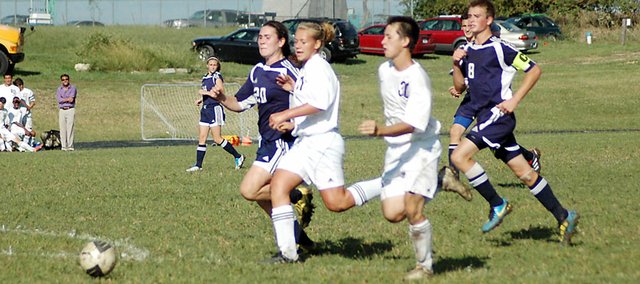 Baldwin High School junior Caleb Michels helped his Bulldogs' get back to a winning record.
After dropping two consecutive road contests, the BHS soccer team hosted Eudora on Tuesday. Michels scored a hat trick as the Bulldogs (3-2) defeated the Cardinals, 4-2.
"This is a good win," coach Mark Joslyn said. "After two losses, it's good to get a win. We scored a lot and that always helps. It was a very good win for us. It kept us about .500, which is a goal of the team."
Baldwin lost its last two games at Spring Hill and De Soto. BHS combined to score one goal in pair of Frontier League contests. On Tuesday, Baldwin's offense came alive against the Cardinals.
BHS junior Louis Joslyn posted the first goal of the game. He booted the ball past the Cardinals' goalkeeper during the middle of the first half.
Michels did the rest of the work for the Bulldogs.
With six minutes remaining in the first half, Michels out-sprinted a Cardinal defender to a loose ball. He only needed one touch on the ball and it flew into the goal to give BHS a 2-0 halftime lead.
"We were working a lot more on our offense," Michels said. "We wanted to shoot more today and work on putting scoring more goals."
Eudora would answer with a goal of its own. It came early in the second half — 45 seconds to be exact. However, Michels added his second and third goals to put the game out of reach.
Michels' second goal came off of a throw-in from senior Joey Cool. The ball was tossed toward the goal and Michels touched it before it hit the ground. The ball went right past the goalkeeper, giving BHS a 3-1 lead. Michels finished off his hat trick five minutes later. Senior Will Nitcher assisted on the play.
"He had a nice hat trick," Joslyn said. "The one from Joey's throw-in was a great kick. We exploited their backs, and he had a nice kick off of the side of his foot."
Michels was happy to score three goals, but the win was more enjoyable.
"It's a great feeling," he said. "It's very cool. It's definitely pretty sweet. It's also a great win. As long as we are getting better and improving from last season, that's an accomplishment. We are above the one win that we had last year."
Eudora added its final goal with 4:38 remaining in the game.
Although the Bulldogs won 2-0, Joslyn said the BHS defense wasn't up to par.
"I think we were better in the attacking half today," Joslyn said. "I'm not convinced we were better defensively. If we just keep working, we will keep improving."
Michels agreed with his coach.
"We are improving our defense and our offensive attack, which is great," Michels said. "We're building up to the end of the season, which is when we need to be playing our best."
Baldwin will need to improve its defense for its next contest. BHS will play at 4:30 p.m. today Louisburg. The Wildcats are ranked No. 4 in the state.