If it's September, it's apple season at area orchards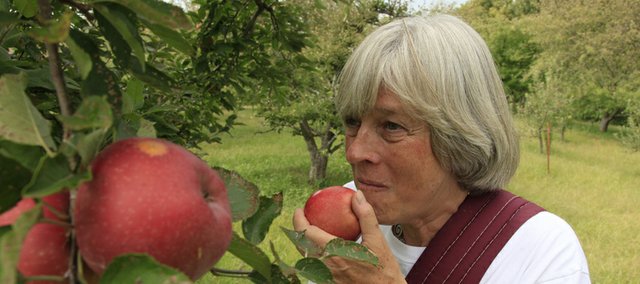 It may not yet be fall, but local apple farmers have been picking apples for about two months already — varieties such as Golden Russet, May, Gala and Ida Red.
Area apple orchards
• Beisecker Farms, Baldwin City, (785) 594-3349, call for you-pick appointment
• Floyd's Fruits and Vegetables, Eudora, available at Lawrence Farmer's Market
• Wagon Wheel Orchard, Gardner, (913) 893-6050, you-pick apples, hay rides and other produce
• Rees Fruit Farm, Topeka, (785) 246-3257, you-pick fruit, cider and baked goods
• Pome on the Range, Williamsburg, (785) 746-5492, you-pick apples, cider and apple wine
Fall apples, such as Jonathans, Golden Delicious, Rome and Granny Smith, are ripe for the picking.
"Most people think of October as apple season," said Rick Godsil of Wagon Wheel Orchard, southeast of Eudora. "September is really apple season in Kansas. By the time people are really thinking about apples, they're at the end of the season. October is pumpkin season."
This year's apple season has not been easy as pie for local farmers, thanks to the whims of Mother Nature. The wet spring made it possible for fungus to take hold on trees and fruit, and windy storms and heat and humidity late in the summer took a bite out of some local apple orchards.
"I had four storms with winds that were 50 mph-plus, and that knocked the apples off onto the ground," said Floyd Ott of Floyd's Fruits and Vegetables, who has about 1,500 fruit trees south of Eudora. "And it rained here a lot more than Lawrence, which caused problems with apple diseases."
Still, Ott said, most of his apples have fared well. "I have a few trees that are just beautiful and I need to get a picture of them," he said. "The Jonathans are prettier than I've ever seen, but they're small."
Tom Beisecker, who operates Beisecker Farms in Baldwin City with his wife, Andrea Norris, said his Gala apple crop from August came through fine, but his Jonathan apple crop was small due to the stress of the summer heat and humidity. He anticipates a large part of his harvest from his 300 trees will be at the end of the month with Romes and heirloom Winesaps.
Godsil's crop was less than he expected this year, but he described his Golden Delicious crop as "massive" nonetheless. Wagon Wheel has about 1,200 trees with a whopping 550 varieties of apples, so even if a disease strikes one type of apple, the others can persevere.
Apples at groceries that are shipped in from afar can't compare to the flavor and texture of local apples, the farmers insist.
"For example, a Red Delicious apple right off the tree has much more flavor than Red Delicious from the store. It's a nice, sweet apple," Beisecker said.
Because of the rainy spring, many farmers did not get the chance spray their crop as they usually would, so there may be some spots on local apples.
"My Jonagolds are visibly less appealing," said Godsil. "But a spotty apple means it has no poison on it."
Both Beisecker and Ott sell their apples in Lawrence: Beisecker at Checker's, 2300 Louisiana, and Ott at the Lawrence Farmers Market, where he has been a vendor for the past 36 years.
Godsil's Wagon Wheel Orchard is exclusively a you-pick apple farm at this time of year. "Once the season gets in full swing, we don't do bulk," he said. "I don't want to pack up bushels of apples and deprive kids of the chance to pick them. We're the world's most diverse pick-your-own-apple orchard with all of our varieties."
Beisecker Farms also allows the public to come pick their own. "If people want to come out and pick, call us. We don't have set open hours," Beisecker said.
All of the farmers say that despite the struggling economy, the apple business is pretty sweet.
"Last week at the farmer's market, I sold to more people than I had all year. I took eight bushels, and I should have taken more," Ott said, although he added that many individuals are buying fewer apples apiece than in past years.
Godsil considers Labor Day to be the peak of Wagon Wheel's season.
Beisecker and his wife also want to make sure everyone can have a taste of their apple success, using blemished apples that normally wouldn't make it to local store shelves.
"For the last three years, we have been giving the apples we'd make cider with to food banks in Lawrence. It's important to provide good, fresh apples to people who can use them," he said. "It's our small effort to do something of good."