Baldwin Education Foundation hands out $11,000 in grants to 29 district teachers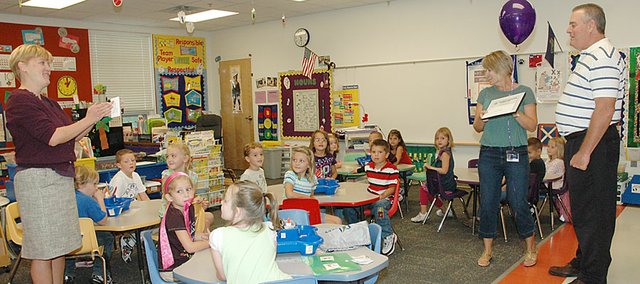 Kathy Gerstner and the Baldwin Education Foundation "Pawz Patrol" delivered cash prizes to 29 teachers Friday morning.
Grants awarded
Erik Bailey, Kathy Dorsey, Lee Hanson & Donna Reed, BESIC 5th grade, Enhancing Creativity in the Digital Age, $1,080

Bench Currie, BJHS Science, 3D plant/animal cell models, $575

Debbie Ellebracht, BESPC/BJHS music, Tone Chimes – present and future, $750

Marsene Feldt, BJHS art, The History of Art for Teens: Aha from Prehistoric to Present, $750

Holly Gaylord, BESPC P.E. , Awards for Miles Exercised Using Pedometers, $220

Kim Heckathorne, BESIC P.E., Exercise Sparkplug, $750

Rhonda Hitchcock, BESPC reading, Netbook Readers, $750

Melody Hoffsommer, Nikki Burnett & Melissa Strother, BHS Link Crew, Boomerang Project, $750

Penny Hughs, BJHS, Gardening with a Greenhouse, $750

April Kohrs & Sara Oberheide, BESPC 3rd grade, Touch Technology, $750

Susie Martin & Mike Berg, BHS P.E., Physical Fitness & You, $750

Catherine Maxon, BESIC 4th grade, Science Buddies, $676

Matthew McCune, BESPC 2nd grade, Technology Workshop, $750

Nancy Parr, BESIC 4th grade, Using an iPod to Improve Reading Fluency, $462

Danita Price, BESIC 4th grade, Under the Sea Readers Café, $421

Alica Thomas, Jessica Lancaster, Susan Case, Stephanie Allen, Loretta Verhaeghe & Leslie Jackman, VES, Hands-On Kansas, $750

Debbie Wallace, BESPC Kindergarten, I Can Do a Lot With My Photo!, $400
Once a year, the group makes its annual surprise visit to more than a dozen teachers around the district. This year the foundation awarded 17 grants totaling $11,322 to 29 teachers.
"We're very excited," said Gerstner, the foundation's executive director. "We gave away more money than we've ever given away. The grants were very good this year and a lot of them were technology related. We had several collaborative grants between grades this year."
A year ago, the foundation awarded about $8,500 in grants.
"We have tremendous support from our community and our donors," Gerstner said. "We're in a financial situation to give away more money. It's very exciting."
The "Pawz Patrol" started its morning in Baldwin Junior High School, where four teachers were awarded grants. The next stop was Baldwin High School. Five faculty members shared a pair of grants at BHS.
The Baldwin City elementary schools were a popular stop for the Pawz Patrol group. The foundation awarded five grants to eight teachers at Baldwin Elementary School Intermediate Center and another five grants for six teachers at Baldwin Elementary School Primary Center.
"I had no idea what was going on," said Debbie Ellebracht, BJHS and BESPC music teacher. "I thought it was someone's birthday, because I saw the balloons."
Ellebracht was shocked when Gerstner, BJHS Principal Tammy Thomasson and a trio of BEF board members walked through her classroom door Friday morning. Ellebracht has in her first year teaching in the Baldwin district. She was interviewed on Aug. 12, hired on Aug. 12 and in staff meetings Aug. 13.
Being new to the district, Ellebracht had no idea about the annual BEF grants. Thomasson mentioned them to Ellebracht and the paperwork was soon filled out. Her grant for $750 was awarded Friday. She will use the money to purchase hand chimes, which will be used at BESPC.
"I was very surprised," Ellebracht said. "I didn't think I would receive it. It was fun. I've done this in several other school districts and I'd like to get it going here. I love teaching them. They are a lot of fun. The kids love them, too."
One final stop on the day was at Vinland Elementary School. All five teachers shared one grant that will go toward teaching about Kansas history, since Kansas turns 150 years old in January.
"The teachers are so excited to get the grants," Gerstner said. "The kids are so funny when we come in the classrooms. They say the funniest and exciting things. We all had a blast this morning."
The BEF raises money throughout the year with several events. The largest fundraiser is the State of the District meal, which has been a breakfast and luncheon in past years. The foundation has also received funds through its BEF Bunco night, BEF for touchdowns and alumni donations.
Another large contributor has been the Bulldog Visa cards through Baldwin State Bank. For each purchase with the cards, a portion of that purchase is donated to the BEF.
"The Baldwin Bulldog Card has been a terrific on-going fundraiser for us," Gerstner said. "It's though the Baldwin State Bank. Right now, that's brought in more than $10,000 during the past three years."
The foundation changed the name from prize patrol to "Pawz Patrol" this year to avoid any possible problems with Publisher's Clearinghouse, which owns the rights to the name "Prize Patrol," although other education foundations have used the moniker for the groups awarding grants.