U.S.

59 shut down due to injury accident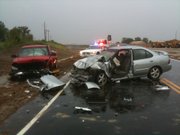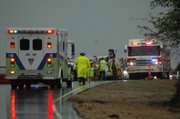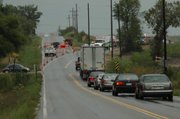 Map
U.S. 59 and N. 482 Road
One person was seriously injured and two people sustained minor injuries after an multi-vehicle accident about seven miles south of Lawrence on Wednesday morning.
Lori Pheigaru, of Topeka, was driving her 2002 Nissan Sentra northbound on U.S. 59 about 11:15 a.m. According to the Kansas Highway Patrol, the Sentra crossed the center line while negotiating a curve and entered the southbound lanes.
A 2002 Chevrolet pick-up truck driven by Daniel Zirkle, 28, of Burlingame, was traveling southbound on U.S. 59 at the same time. The Sentra struck the pick-up truck head-on.
Pheigaru, 47, was taken to Stormont-Vail Regional Health Center with serious injuries. Zirkle, 28, of Burlingame, and Andres Cardenas, 28, of Tigard, were taken to Lawrence Memorial Hospital with minor injuries.
Both directions of U.S. 59 just north of N. 482 Road were closed through early Wednesday afternoon so emergency crews could clear the scene of the accident.
The Kansas Department of Transportation had encouraged drivers to avoid the area after the accident.
Firefighters inquired about using a LifeStar helicopter to transport the seriously injured person, who had to be extricated from the vehicle. Because of the rain, no emergency helicopters were flying.