BHS

volleyball team finishes third at home tournament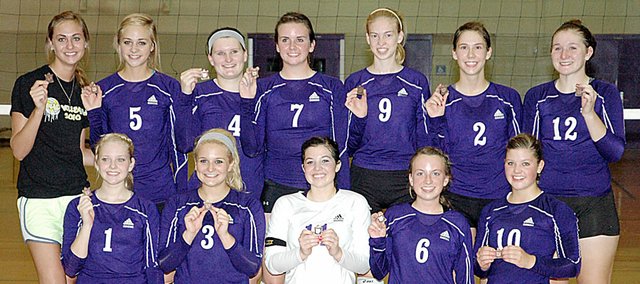 Baldwin High School's volleyball team had its best showing at its home tournament during Kelly Brown's five-year tenure as BHS coach.
The Bulldogs went 4-2 Saturday at the Baldwin Invitational Tournament to improve its record to 6-5 on the season. They defeated Oskaloosa in the third-place match to finish the day with a win.
"This feels great," Brown said. "It all came together today. We've still got some things to work on, but I couldn't ask for a better day."
Baldwin players celebrated after they scored the final point Saturday to beat Oskaloosa. It was the first time any of them have finished in the winners' bracket of the 10-team tournament.
"It's amazing," junior Kaysha Green said. "It feels so good to win today, because last year we didn't even make it out of pool play. This year, we have something to take with us and say that we are here to play this season."
A year ago, the Bulldogs lost all four matches in their pool and missed the winners' and consolation brackets.
"The turnaround we have made in one year is huge," Brown said. "The mentality of these girls is coming together. We came out to win. We tweaked the lineup a bit, and they played well together on the court."
The Bulldogs defeated Oskaloosa in straight games, 25-22 and 25-14, with a loud home crowd cheering throughout the match.
In the championship semifinals, the Bulldogs lost to Mill Valley in three games. Mill Valley went on to finish runnerup to Gardner-Edgerton.
In the semifinal match, BHS started by crushing Mill Valley 25-11. The Jaguars won the next game 25-21. The final game was neck-and-neck throughout, but Mill Valley won the final two points and for a 26-24 victory.
"We were OK with losing that one, because we gave it our best effort," Green said. "They are a good team. We wanted to be in the championship, but we are excited to take third."
Her coach agreed, saying she hopes her team learned from playing a tough opponent to three games.
"There were a few tough calls at the end of the Mill Valley match," Brown said. "Mill Valley is a very well put together team and we did our best with them. It was neck and neck for the entire match. If we can do that against a good team, we are there and we will get over that hump. Next time I hope we can pull out a win."
The Bulldogs finished pool play with a 3-1 record. They opened the day with a loss to Gardner (26-24, 25-16). However, they recovered to win the next three matches. Baldwin beat Paola (25-12, 31-29), Osawatomie (25-14, 25-21) and Wellsville (25-18, 25-10).
"For us to open up with Gardner and then place third shows a lot of character for the girls," Brown said. "I'm very proud of them for playing well today."
Last Thursday, the Bulldogs traveled to Tonganoxie and beat the Chieftains in five games, 21-25, 25-22, 19-25, 25-12 and 15-7.
On Tuesday, Baldwin hosted Paola for its second Frontier League night of the season. For the second straight week, BHS was swept. Paola won 25-21, 25-21 and 25-12.
Baldwin's next match will be at 6:30 p.m. Tuesday at home against Ottawa.