'

Pawz Patrol' surprises teachers with money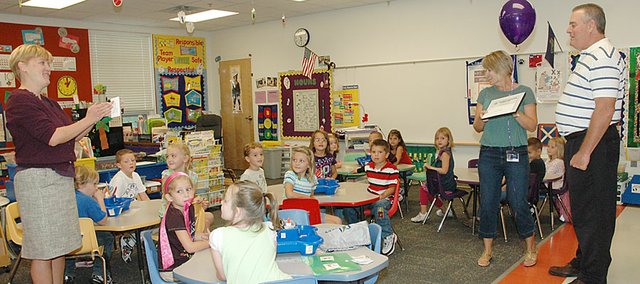 Kathy Gerstner and the Baldwin Education Foundation "Pawz Patrol" delivered cash prizes to 29 teachers Friday morning.
Once a year, the group makes its annual surprise visit to more than a dozen teachers around the district. This year the BEF awarded 17 grants to 29 teachers for a total of $11,322.
"We're very excited," said Gerstner, BEF executive director. "We gave away more money than we've ever given away. The grants were very good this year and a lot of them were technology related. We had several collaborative grants between grades this year."
The BEF awarded around $3,000 more than last year, when it gave away around $8,500.
"We have tremendous support from our community and our donors," Gerstner said. "We're in a financial situation to give away more money. It's very exciting."
The "Pawz Patrol" started its morning in Baldwin Junior High School, where four teachers were awarded grants. The next stop was Baldwin High School. Five faculty members shared a pair of grants at BHS.
The Baldwin City elementary schools were a popular stop for the BEF group. The BEF awarded five grants to eight teachers at Baldwin Elementary School Intermediate Center and another five grants for six teachers at Baldwin Elementary School Primary Center.
One final stop on the day was at Vinland Elementary School. All five teachers shared one grant that will go toward teaching about Kansas History, since Kansas turns 150 years old in January.
"The teachers are so excited to get the grants," Gerstner said. "The kids are so funny when we come in the classrooms. They say the funniest and exciting things. We all had a blast this morning."
The BEF changed the name of the group from prize patrol to "Pawz Patrol" this year to avoid any possible problems with Publisher's Clearinghouse, who already owns the rights to the previous name, which other education foundations used, too.