Bulldogs finish off Broncos 42-0 in home opener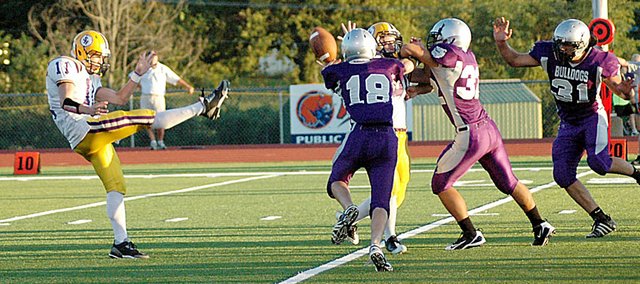 After Friday's football home opener was suspended at halftime, Baldwin High School finished off Spring Hill early in the third quarter Saturday.
Like many area games, the Baldwin-Spring Hill contest was stopped short Friday because of lightning. The Bulldogs were able to gain a 20-0 advantage by halftime before officials said the game was being postponed to Saturday night.
"We've got to win the Bash," coach Mike Berg said of the annual tailgate party before the Bulldogs' home opener. "It's huge. I felt bad, because we had a huge crowd at 7 on Friday. If we could have played in front of that crowd, it would have been amazing. I thank the people that came back after a two-hour delay."
On a clear Saturday night at Liston Stadium, the Bulldogs scored 22 third-quarter points. Their starters were pulled in the fourth quarter, but they still won 42-0. BHS is 2-0 this fall.
"It's been a long time since we played half of a game on one day and had to come back the next day to finish it," Berg said. "It was kind of a fun game. I thought they were really focused at the beginning, but after the two-hour delay we came out a bit flat. Then on Saturday, we were focused again."
Senior Jesse Austin helped make sure the Bulldogs won after losing last year's home opener.
"It feels awesome to come out here and hit them in the mouth, especially after our slow start yesterday," Austin said. "I told the seniors this is our last (Bulldog) Bash. Losing 35-7 last year was in my head, so coming out here and winning 42-0 is an awesome feeling."
On Friday night, the Bulldogs and Broncos took the field to a large crowd that filled Liston Stadium. Seconds before the opening kick off, lightning flashed in the sky. Teams were sent to their locker rooms and fans exited the stadium.
Nearly two hours later, the game resumed play as the skies cleared. Both teams exchanged three-and-outs before the Bulldogs marched 82 yards in 12 plays. Senior Ryan Rogers scored a touchdown on a 1-yard run.
Spring Hill threatened to score in the second quarter as it moved the ball to Baldwin 14 yard line. But BHS sophomore Dayton Valentine blocked the Broncos' field goal attempt. Two drives later, Baldwin took a 12-0 lead. Senior Josh Hoffman broke a 36-yard run for a touchdown. It was the first of his four touchdowns in the game.
"You have to give Spring Hill credit," Berg said. "They put a lot of guys in the box and stopped our first three running plays and they made us punt. They came ready to play after the delay, but I thought our kids responded well. We made some adjustments in our blocking up front and broke a few long plays. So, it all worked out in the end."
Baldwin put the final stamp on the first half in the closing minute. On first down at Baldwin's own 10, Hoffman sprinted around the left side and followed his blockers until his speed left the defenders chasing him. His 90-yard touchdown gave BHS a 20-0 halftime lead. Another thunderstorm rolled through the area at halftime, forcing game officials to postpone the game to Saturday.
"I was going to kill the clock," Berg said. "All of a sudden, I saw Hoffman coming around the end and he has such great breakaway speed. He'd be the first one to tell you that our linemen did a nice job of sealing everything inside so he could get outside on the edge."
Baldwin opened the second half by holding Spring Hill's offense to a three-and-out. Baldwin junior Cody Nieder blocked the punt and senior Josh Hoffman picked up and ran it five yards for a touchdown.
After another three-and-out by Spring Hill, the Bulldogs tipped the punt. Hoffman broke a 40-yard touchdown run on the next play to give Baldwin a 36-0 lead with 7:32 remaining in the third quarter.
"Our defense was phenomenal on Saturday," Berg said. "We blocked two punts and stopped their offense. They had a hard time running and passing the ball."
The Bulldogs' final touchdown came on their next drive. Junior Jake Mindez scored on a 4-yard run.
"It's great to be 2-0, but we still have seven more to go," Austin said.
The Bulldogs next play at 7 p.m. Friday in De Soto. The Wildcats are 2-0.
"De Soto is playing really well right now," Berg said. "They have played the same two teams we have and the scores were similar. They are very good up front and they have a very fast quarterback. It's going to be a battle in the trenches Friday night."
Scoring summary
B — 6 14 22 0 - 42
SH — 0 0 0 0 – 0
B — Ryan Rogers 1 run (Josh Hoffman kick wide left)
B — Hoffman 36 run (Rogers run failed)
B — Hoffman 90 run (Rogers pass to Hoffman conversion)
B — Hoffman 15 blocked punt recovery (Rogers pass to Asher Hannon conversion)
B — Hoffman 40 run (Rogers run conversion)
B — Jake Mindez 4 run (Landon Ausherman run failed)
Frontier League results
Week 1 games
Baldwin – 32, Paola – 14
De Soto – 24, Spring Hill – 6
Louisburg – 33, Eudora – 6
St. James – 27, Ottawa - 18
Week 2 games
De Soto - 26, Paola – 11
Eudora – 42, St. James – 6
Louisburg – 35, Ottawa – 0
Standings
Baldwin 2-0 (2-0)
De Soto 2-0 (2-0)
Louisburg 2-0 (2-0)
Eudora 1-1 (0-1)
Ottawa 0-2 (0-2)
Paola 0-2 (0-2)
Spring Hill 0-2 (0-2)