BHS

volleyball team falls to Spring Hill in three games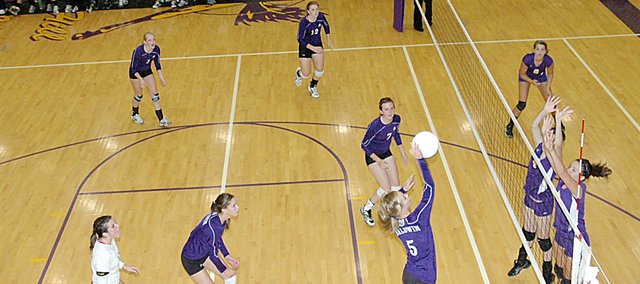 SPRING HILL — Baldwin High School's varsity volleyball team started a busy week with a disappointing loss here Tuesday night.
The Bulldogs will play a handful of matches during the next six days, including a match at Tonganoxie tonight. They will also host the Baldwin Invitational on Saturday, so, they were hoping to use Tuesday's match as a springboard for the week.
However, the Broncos started Baldwin's week with a quick loss. The Broncos swept BHS (1-3) at its first Frontier League night of the season.
"Slow starts and mental errors killed us tonight," coach Kelly Brown said. "We have to learn how to play hard every point. Mental errors and mental toughness are two things that tore us apart tonight."
Spring Hill took an early lead in the first game and built it to 19-12. Baldwin rallied with five straight points to make it 19-17. Then Spring Hill finished the game with six consecutive points to win 25-17.
The second game and third games were much of the same for the Bulldogs. Spring Hill built an early lead, but the Bulldogs rallied each game. In the second game, Spring Hill led 23-11 until Baldwin caught up to 23-17, but still won 25-17.
Spring Hill scored the final eight points of the third game to win 25-14. That completed the best-of-five match.
"Our offense is not very fluid right now," Brown said. "We tried to change some things late in that third game. Our communication was lacking tonight, which really hurt us."
Baldwin will play at 7 tonight at Tonganoxie. It will host its home tournament, which starts at 8 a.m. Saturday and will run until the early afternoon.
On Tuesday, BHS will host Paola at 6:30 p.m. The freshman and junior varsity squads will start at 4:30 p.m.
"We've got a busy week ahead of us," Brown said. "We've got some things that we definitely still need to tweak. The positive side of this is that it's still early in the season."