Road work to delay travel to Baldwin City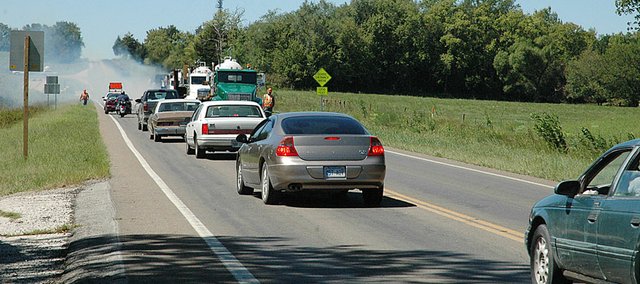 Motorists traveling between Lawrence and Baldwin City might want to tack on a few extra minutes for the trip — regardless of the route.
Both the Kansas Department of Transportation and Douglas County Public Works are planning projects that could delay traffic for as much as 15 minutes.
KDOT is resurfacing a 12-mile stretch of U.S. Highway 56 spanning from U.S. Highway 59 to the Johnson County line.
Alternating lane closures will occur for traffic heading in both directions. Flaggers and pilot cars will guide traffic through the work zone. An 11-foot lane width restriction will be in place throughout the work zone.
The crews will work west to east and from Monday through Friday during daylight hours. The project is expected to be completed by mid-October.
For those hoping to skirt construction by traveling on Douglas County roads, think again.
Motorists using Douglas County Roads 458, 1055 and 460, which links Lawrence to Baldwin City, also could see delays as the county completes a mill and overlay project.
Delays of up to 15 minutes are expected along this stretch of road. Flaggers and pilot cars will move traffic through the work zone. The project is expected to last until Sept. 24.
Delays also are anticipated along portions of Douglas County Road 458 and Douglas County Road 1023, which is a stretch of rural road that runs south and west of Clinton Lake.
Public work crews will be using flaggers and pilot vehicles to direct traffic through the work zone. Delays can be expected through October.
And, Douglas County Road 1029 from the Franklin County line to North 100 Road will be closed for six weeks. The county plans to replace three culverts.