Wildcats fall to
OU

Braves 24-14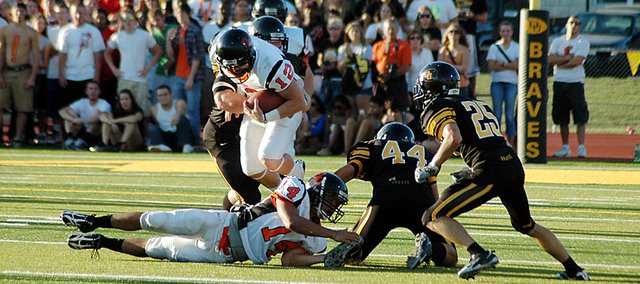 Ottawa University made a statement with the opening play of Saturday's Victory Sports First Down Classic.
The Cyclones ran the opening kickoff back 99 yards for a touchdown. Clarence Anderson scored the TD after taking a handoff from Shane Gimzo on the 5-yard line.
"The opening kickoff hurt," Baker coach Mike Grossner said. "To allow a touchdown 13 seconds into the season wasn't a great start."
For Baker University football fans, it wasn't the start they were looking for against the No. 9 team in the country. After the opening score, Ottawa never trailed as it defeated the No. 24 Wildcats 24-14 at home.
The opening touchdown wasn't the only set back Saturday. Baker was also penalized 16 times 144 yards. The Wildcats fumbled the ball after a long pass reception and dropped passes, one of which would have scored a touchdown.
"Any time you have 16 penalties, you're not going to win a football game," Grossner said. "We had too many mental mistakes in crucial situations. A penalty is either going to stall a drive or continue a drive for the other team. I'm not going to make excuses because, to me, we should have come better prepared to play.
"We just didn't make the plays," he said. "A couple of times we didn't make the catch. We got a touchdown called back for an illegal formation. You can't overcome all of that against a good football team. Give Ottawa credit, because they made enough plays to win."
Offensively, the teams were closely matched. Baker threw for 363 yards and rushed for 45 for 408 total yards, while Ottawa threw for 341 yards and rushed for 34 (375 total yards).
Anderson also had 11 catches for 191 yards and a touchdown. Baker's Zach Faust was 27-for-45 for 363 yards and a touchdown, and Kyle Bolton had five catches for 94 yards and a TD.
"Zach played great," Grossner said. "He made a lot of nice throws. He threw for 300 yards in the second half. For a freshman, that's pretty good."
Grossner did take something positive out of Saturday's disappointing loss.
"The silver lining of this game was that the only thing we lost was an undefeated season," he said. "We gained some experience. All of the mistakes we made are correctable. Now we just need to fix those."
The Wildcats will have a short time to move on from Saturday's opening day loss, as they host No. 10 Missouri Valley Saturday to kick off the Heart of America Athletic Conference season. The game begins at 6 p.m. at Liston Stadium.
"We better have a short memory or Missouri Valley will wake us up quickly," Grossner said. "They are one of the best teams in the country. They are very physical and fast on defense. The advantages we have is that we have a game under our belt and we are at home."