Smooth day for school's opening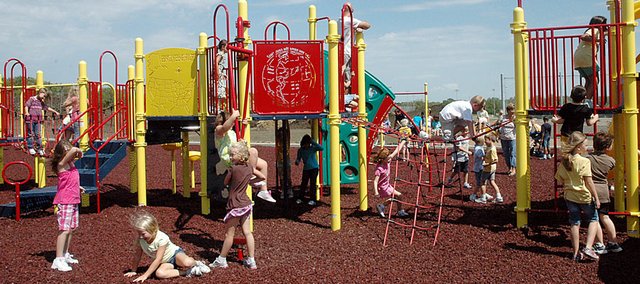 Debbie Wallace sat in her classroom ready to unwind Tuesday afternoon.
The Baldwin Elementary School Primary Center kindergarten teacher sat with a smile on her face. Now in her 23rd year of teaching in the Baldwin School District, Wallace was thrilled to finally be in the new BESPC.
"We had a great day," she said. "They came in and played. They remembered what we did before at the other school. They were very excited about all of the colors. They had lots of questions. We took a little classroom tour and they had a great day."
On Tuesday, the school officially opened its doors for classes. The third graders from Baldwin Elementary School Intermediate Center started their first day in the new school, too.
Bright colors surround the students on the floors and walls. The ceiling throughout the main corridor and commons is designed to look like blue sky with white, puffy clouds. Each grade level is divided into its own pod and each pod is a different color. Parents and students were in awe of the school Tuesday morning, but after taking Monday off, the teachers were back on schedule early in the morning.
"We were able to start school this morning," said Deb Ehling-Gwin, BESPC principal. "When I walked around the classrooms at 8:30, there was instruction already happening. The teachers have their routines set and after the initial 'oohs' and 'ahhs,' they started teaching like normal. It's just a very happy building and it will make a huge difference."
Before the day started, there was some concern. Ehling-Gwin and teachers were worried about parents figuring out the new parking lot, along with making sure students found their pod and classrooms. Despite the concerns, the morning went better than expected.
"We had a lot of staff here to help parents and students get to their classrooms," Ehling-Gwin said. "We had barricades in the parking lot help direct people. Mr. (Dan) Wallsmith (BESIC principal) and I both sent out maps of the parking lot and how that's going to work and some parents said that was helpful. We also asked kids to wear a shirt of whatever color their pod was and a lot of them remembered to do that. So far, everything has been going very smoothly.
"I was amazed by how well the traffic went this morning," she said. "I thought we'd have more congestion and problems, but we didn't have any at all. We'll see how this afternoon goes, though. If it goes like this morning, it will be 1000 percent better than the Chapel Street congestion."
In the afternoon, the transition of students from classrooms to buses or cars also went smoothly.
"After school can be kind of chaotic, because we have the pick-ups, after school program and the bus kids that we have to separate," Wallace said. "We split duties and decide who is going to take the bus kids and the pick-ups, especially with the little ones. It just ran smoother than it did at the old building. It ran like clockwork."
Comparisons to the old building came from most of the staff members and they were all thrilled by the size and space of the new school. Besides transportation, the staff is also beaming about the library, gymnasium, classroom spaces and the playground, which is the overwhelming favorite part by many of Wallace's students.
"The playground was their favorite," Wallace said. "It's a cool playground. They loved it."
She was more happy about classroom space and having bathrooms in her class that are equipped for kindergarten students.
"This is incredible compared to what we had before with our storage," Wallace said. "I'm not used to having everything in its place. I'm used to cramming it and making it fit."
Since starting school, Aug. 17, the BESPC staff has been living out of boxes at the old school. Last May, they were hoping to move into the new school before classes started. Then that date was pushed back until after Labor Day weekend. It was moved up a week as of Aug. 24, when Supt. Paul Dorathy announced the building would open on Tuesday.
Since the announcement, there have been moving trucks coming from the old location, 700 Chapel St., and to the new school, which is located southwest of BESIC on Lawrence Street.
"The district maintenance and custodial staff were able to move almost everything," Ehling-Gwin said. "They started moving last week and they worked hard on Saturday to finish. Then at noon on Saturday, the high school football players moved the third grade classrooms from the IC and they helped move other stuff, too. We also had lots and lots of parent volunteers who worked long hours on Sunday and Monday. They helped set up the library, which was very helpful."
Now, the school is open and the teachers couldn't be happier.
"It's a relief," Wallace said. "That's kind of how I feel now. The first day is over and it all went well. What more could we ask for?"