Bulldogs begin season with pair of 1-0 victories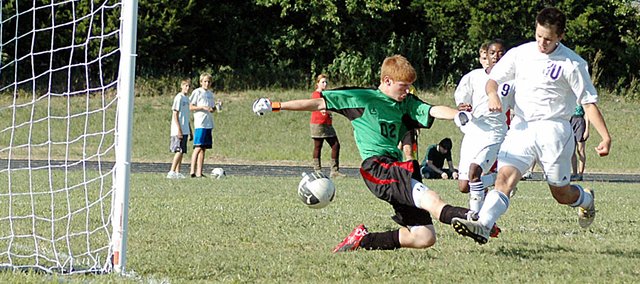 Caleb Michels and Russell Cloon helped the Baldwin High School soccer team tie last year's win total during the 2010 opening week.
With wins over Tonganoxie and Paola, the Bulldogs are 2-0 this fall.
"I'm loving it," coach Mark Joslyn said. "This is absolutely great. We are getting more confident and winning helps confidence."
On Tuesday, the Bulldogs traveled to Paola and left with a 1-0 victory. It was the freshman, Cloon, who scored the winning goal. The Panthers' goalkeeper attempted to clear the ball on a goal kick, but Cloon stopped the ball.
After a couple dribbles toward the goal, Cloon fired a shot right past the goalkeeper. The goal came early in the first half.
"He took advantage of a keeper error and kicked it in," Joslyn said. "It was a goal kick and Russell got on it, dribbled it in and booted it over the goalie."
Cloon's goal was one of many shots fired by the Bulldogs, but his was the only one to score. Their coach was very happy with the team's performance.
"We had most of the possession and took lots of shots, but couldn't get any in the goal," he said. "I'd say we played better than we did on Friday."
Tuesday's win was also the second consecutive shutout by Baldwin. BHS has yet to allow a goal this season.
"There's nothing like holding your opponent to the big goose egg," Joslyn said. "The back four guys were really solid tonight. Our middle two played the whole game, so they were beat after the game."
The other shutout came Friday at home against Tonganoxie. Last year, the two teams tied 1-1, but this year the Bulldogs would finish on top.
Michels, a BHS junior, scored the winning goal, as Baldwin won 1-0. He was ecstatic to win their first contest.
"It feels great," Michels said. "It's an amazing feeling to win our opening game. I felt like we played pretty well. We kept our composure. Our defense was good and any mistakes we made, we corrected. We didn't let them score, which was great."
The Bulldogs' coach was also thrilled to start the season 1-0.
"It's absolutely great to win today," Joslyn said. "It's a beautiful day and we have lots of people here. It feels a little bit more like a game with pre-game music and bleachers for the fans."
Baldwin and Tonganoxie played a scoreless first half, despite several shots on goal by both teams. The second half remained tied 0-0 for about 15 minutes.
Baldwin junior Louis Joslyn took a shot on goal that bounced off of the Tonganoxie goalkeeper's chest and rolled several feet in front of him. Michels timed his run perfectly as he kicked the ball into the net without interfering with the goalkeeper.
"Louis hit it pretty hard and it bounced off the goalie's chest," Michels said. "I just finished it. I knew I had it when it bounced in front of him."
Baldwin will next play at 6 p.m. today at Spring Hill and then again at 6 p.m. Tuesday at De Soto.