BHS

football bringing back old offense for 2010 season
Bulldogs open season Friday at Paola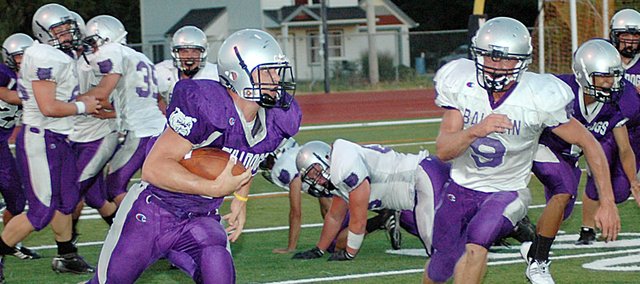 Mike Berg is bringing back the 'good ole days' of Baldwin High School football this fall … well, sort of.
The BHS football coach is returning his offense to the scheme it used in 2007 and 2008. During those years, the Bulldogs had a combined record of 18-6. Most of the credit went to the Bulldogs' single-wing offense.
A year ago, Baldwin tried different offensive formations. BHS ended the season 2-8.
"We've simplified a lot of things this year," Berg said. "We went with the K.I.S.S. (Keep It Simple Stupid) principle. We figured our kids are going to be able to play harder if they don't have to think as much on the field. We want them reacting out there."
Berg and the Bulldogs will be partially returning to the offensive formation that helped BHS advance to the state's final-four round in 2007. The single wing will be one of the formations run this fall, but it won't be the only one as it was in 2007 and 2008.
"We've got a multiple-set offense," Berg said. "We have some spread offense and some single wing, too. We have different formations that will include a lot of power football."
Some of the Bulldogs are excited about bringing back the single-wing formation.
"Going back to the single wing is like playing with the old seniors again that we had my sophomore year," senior Josh Hoffman said. "Coming back to this offense reminds me of the good times and how good we were. Hopefully, we can be that good again."
Hoffman is one of four running backs the Bulldogs will use this fall. The others are senior Ryan Rogers, senior Landon Ausherman and junior Jake Mindez.
"We've got a lot of guys with lots of experience," Berg said. "They've been thrown in the fire and they've played as underclassmen. That should help us this year."
While Hoffman is excited about the Bulldogs' backfield, he believes the offensive line is where the team is most improved this fall. The offensive line will include senior Jesse Austin, senior Tyler Schneider, senior Jesse McDaniels and Keenan Coffey.
"We've got a few good backs this year," he said. "I really like how our line is playing this year. They are working really hard and they should do some good work up front for us."
His coach agreed.
"They are working hard up front," Berg said. "We return all but one player from last year, but most of them have started at some point. We also have a good tight end, so we are blessed with talent."
At the wide receiver position, Baldwin has a few players who will be playing varsity. They are senior Kyle Pattrick, junior Asher Hannon, junior Clayton Duncan and junior Will Simmons.
The Bulldogs held their annual scrimmage Friday night at Liston Stadium. The team was divided into two evenly talented squads. Both teams broke some big plays on offense and both squads made some loud, hard hits.
"I thought we had a good scrimmage," Hoffman said. "Both teams competed really hard. There was a lot of hitting heads and contact, which is good to see."
Baldwin will be playing all Class 4A schools during its regular season. Those include the six other Frontier League schools, El Dorado, St. James Academy and Santa Fe Trail. The Bulldogs' district includes SFT, Ottawa and Eudora.
"The Frontier League is always tough," Berg said. "We have a new opponent in El Dorado and we don't know much about them. I like our schedule, but it's tough. We just have to be the most physical team."
The Bulldogs open the season at 7 p.m. Friday at Paola. The Panthers advanced to the state semifinal round in 2009.
"I'm just taking one game at a time and Paola is first," Hoffman said. "We will be going for the win."