BHS

cross country teams aiming for state titles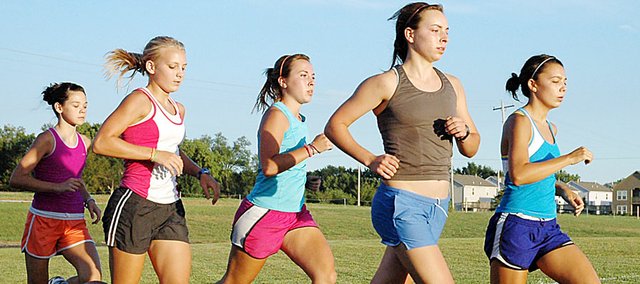 If the Baldwin High School cross country teams can stay healthy this fall, it might mean trouble for the other Class 4A teams.
It also could mean coach Mike Spielman would be adding hardware to his already extensive collection of state trophies. Since he started at BHS in 1992, his cross country teams have won 17 state championships.
The latest string of titles has come on the girls' side. The BHS girls' team has won six of the last eight 4A championships, including the last three.
"Our goals are high again," junior Elizabeth Sigvaldson said. "We're always nervous for state, but it's not decided for another two months. We know that we need to train hard and work hard all season. We can't just expect to do well each year."
Baldwin returns its top five runners from the 2009 state meet. The returning runners are senior Heather Karlin, junior Abi Hartzell, junior Carol Whaley, Sigvaldson, sophomore Kaitlyn Barnes and sophomore Sienna Durr. Hartzell was the alternate on the state team.
"They had a really good summer of running," Spielman said. "They were motivated. Now, we've got that nice mix of experience with kids coming back from last year and we've also got some new ones in there, too. We're really excited about the season."
Added to the mix of returning runners are a handful of freshmen who have made an early impact this fall. They include Hannah Hutton, Katie Jones, Ashton Temple, Leyena Watson and Libby Verhaeghe.
"We've got some really good freshmen in there this year," Spielman said. "Two or three of them might be varsity and we've got a fourth that is really close. They are going to make our entire team more competitive."
Sigvaldson is also excited about the freshmen impacting the team this fall.
"It makes me nervous, because they are really good," Sigvaldson said. "I haven't run with these girls before, but they are all really nice and talented. They make us a much better and deeper team."
The BHS boys are in a similar situation, but with fewer freshmen impacting the varsity squad. The Bulldogs return all seven runners from state a year ago. Those returning runners are senior Tony Weiss, junior Brian Wright, junior Tosh Mihesuah, senior Carson Barnes, senior Kyle Garcia, senior Joey LaBuda and senior Ethan Horne.
Much like the girls' squad, the boys' team should be helped by newcomers this fall. Those should be freshman Ethan Hartzell, senior Nate Growcock, senior Brandon Baltzell and freshman Tucker Clark.
"We already had a strong base coming back," Wright said. "Now we've added a couple freshman and seniors to help us this year. They will make an immediate impact so our team should be deep this fall."
After a 3-mile run last week, Spielman is thrilled about his boys' team this season.
"I'm really excited about the boys' team," he said. "We had a LeLoup run the other day and we had a strong batch of guys. We had 10 guys run faster than our third guy ran last year, so we're a lot deeper and stronger."
Last year, the BHS boys' team was plagued with injuries and sickness, especially late in the season. Meanwhile, the girls' squad remained healthy. Spielman hopes his teams will be healthy, but if not, he is more confident that depth on both teams will help the Bulldogs.
"Staying healthy is important for both teams," Spielman said. "In the past we've had just enough top guys if we all stayed healthy. Now, we have a few more and that will help us in case something happens. We need that depth."
During the past two seasons, the BHS girls' team has refrained from consuming much if any sugar products. They believe it's helped them stay healthy. When asked if the boys might try the "no sugar policy," Wright chuckled.
"We thought about it, but the girls are pretty committed," said Wright as he laughed. "We'll just try to make our runs go well and if that happens, the rest of the season should go well, too. It is a team goal of ours to stay healthy. It's also a personal goal of mine."
Both BHS teams open their season at 4 p.m. today in Garnett with the Anderson County Invitational.
"I'm really excited," Sigvaldson said. "I'm super nervous, too. It's the first meet of the year, so I can't get myself too freaked out, but I am really excited, too."