Victory over
SFT

sets Bulldogs up for battle with Eudora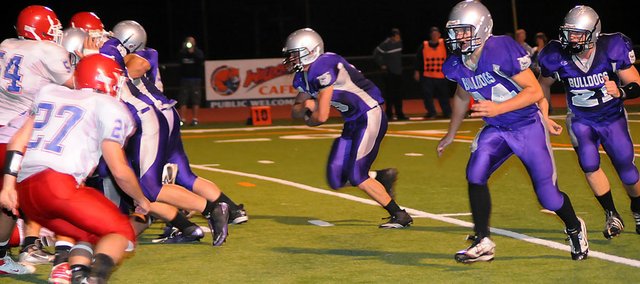 With arguably its most important game of the season up next, the Baldwin High School football team made sure not to stub its toe Friday on senior night.
Baldwin's third and final district game tonight at Eudora will decide the winner of the Class 4A district. Before Baldwin travels to Eudora, it had to face a winless Santa Fe Trail team at Liston Stadium.
The Chargers (0-8) were no match for the Bulldogs (7-1), who scored touchdowns on eight of their 10 possessions. The Bulldogs crushed Santa Fe Trail 53-17.
"At this time of the year, we are trying to peak," coach Mike Berg said. "If you play a bad game against anybody, it's frustrating and might be hard to recover from it. Our kids came out and they were focused, just like we knew they would be. We didn't want to turn the ball over, which we didn't. We just wanted to execute."
Senior Josh Hoffman, who led the Bulldogs with four touchdowns, said the team may have slightly overlooked the Chargers, but still came to play.
"It's exciting to be 2-0 in districts," Hoffman said. "It feels really good. These last games mean a lot to us. It's great to be 2-0, but right now only one game matters and that's the Eudora game."
Hoffman was one of 10 seniors who were honored before the game. It was the final regular season home game for them.
"It's fun to win on senior night," he said. "It seems like we have a knack for it raining at home, but it was a great night."
It was Hoffman who got the Bulldogs off to a fast start Friday. He took the ball on the second play of the game and ran 60 yards for the score. After senior Braden Souders intercepted a Chargers' pass, senior Ryan Rogers ran 59 yards three plays later for Baldwin's second score of the contest. Baldwin needed only five offensive plays to lead 13-0.
"We knew we were going to be able to get outside on them," Hoffman said. "We called in the huddle and it was a good play."
Baldwin scored a trio of touchdowns in the second quarter. Hoffman scored on a pair of 2-yard runs. Junior Asher Hannon scored the other on a 27-yard run. BHS led 34-0 at halftime.
On the Bulldogs' opening possession of the second half, senior Landon Ausherman finished a 11-play, 60-yard drive with a 2-yard touchdown run. Hoffman scored his final touchdown on the next drive. He ran 20 yards up the middle of the field, giving Baldwin a 47-0 lead.
Junior Jake Mindez added the final score for the Bulldogs. Santa Fe Trail's punter fumbled the snap on a punt, but recovered on his own 1-yard line. Mindez scored on the next play.
The Chargers scored their touchdowns during the final five minutes of the game.
"I thought our tackling was much better tonight," Berg said. "Our tackling against Louisburg and last week against Ottawa wasn't good. Our goal was to improve tackling tonight."
Tonight's contest will start at 7 p.m. in Eudora. The Cardinals moved earlier this season from Laws Field to a new stadium west of their high school.
"Everybody in Baldwin and Eudora circles that day on their calendars, because it's a big game," Berg said. "It's going to mean home-field advantage, so we're looking forward to it."
Frontier League results
Eudora — 49, Ottawa — 0
Louisburg — 62, Osawatomie – 6
Paola — 52, Spring Hill — 0
De Soto — 39, Blue Valley SW — 14
League standings
Louisburg 8-0 (5-0)
Baldwin 7-1 (4-1)
Paola 6-2 (3-2)
Eudora 6-2 (3-2)
Ottawa 3-5 (2-4)
De Soto 4-4 (2-4)
Spring Hill 1-7 (0-6)