Holland seeking name recognition in governor's race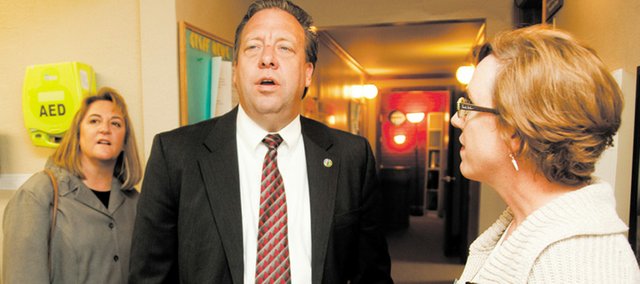 Around Kansas, Tom Holland is spreading his message and seeking enough name recognition to propel him to a four-year term in the Governor's Office
The Baldwin City Democrat isn't lacking name recognition in his own hometown, though.
"Holland" signs touting the local business owner and veteran state legislator in his bid for governor dot the Baldwin City and the surrounding landscape. Baldwin City is home, but since Holland started campaigning in earnest in May the highways and byways of Kansas are where he's spent most of his time.
"I'm home at night," Holland said in an interview last week as his campaign against Republican Sam Brownback hits the home stretch. "A lot you're just on the road, just going to towns, talking to supporters, talking to business owners, talking to media folks about what the campaign's all about and getting your message out there.
Brownback, a U.S. senator the past 12 years, a congressional member before that and a onetime state agriculture commissioner, is the odds-on favorite to win the governor's race in the GOP-dominated Sunflower State. But Holland is optimistic, insisting that if Kansans come to know about him and where he stands on the issues by Election Day, he can win.
"I mean, look, we know Mr. Brownback is outspending us at least four-to-one. Who knows? But the point is that we've been on-air. We're getting our message out there," Holland said.
Though campaigning is, by definition, partisan, Holland sounds a moderate chord about working with Republicans. He refers to his work with Democrats and Republicans during his tenure in the Kansas House and, more recently, the Kansas Senate. Among the products was passage this spring of a new, comprehensive transportation program and school-finance legislation.
He talks with pride about a recent endorsement he picked up from a member of a well-known and respected Kansas political family with deep Republican roots, Bill Kassebaum, son of former U.S. Sen. Nancy Kassebaum and grandson of former Gov. Alf Landon.
Bill Kassebaum and Holland served together in the Kansas House in 2003-04.
"Bill's got some concerns about Sen. Brownback's proposals regarding education, or the lack thereof, I should say," Holland said.
State funding of education is a big concern for Holland in his campaign against Brownback. When Brownback talks about returning local control to school districts, Holland says that's "code" for cutting state support for schools and putting the burden on local property taxpayers. While such a move might be popular in the so-called rich districts like Shawnee Mission and Blue Valley, districts such as Baldwin City would suffer greatly, Holland maintains.
Holland says the state's school-funding formula is on the mark, and the future of the Kansas economy is dependent on strong schools, from K-12 to colleges and technical schools.
"Our No. 1 message is obviously creating quality jobs for Kansas. The economy and jobs, that's the No. 1 issue on voters' minds by far, and we feel we're the best team to address their concerns," Holland said. "We believe … that the way you create quality jobs for the long term here in Kansas is by investing in the work force. And what that means is two things. It means making sustained investments in education, our K-12 system and the regents. It also means that we provide more technical training opportunities for our citizens."
It's a message Holland will push these last days before balloting ends at 7 p.m. Tuesday, Nov. 2. Though he knows he's facing long odds, Holland said he was hopeful he's handicapped his horserace with Brownback correctly.
"This campaign has gone the way I thought it would," Holland said. "I knew I had little name recognition outside of northeast Kansas. So we knew it was going to be a late-closing race, and that's the way it's shaping up. I feel very positive about that. Our own … numbers show we're closing, so we're just really pushing hard to try to take it away on Election Day."