Freshman's first goal lifts Bulldogs to regional victory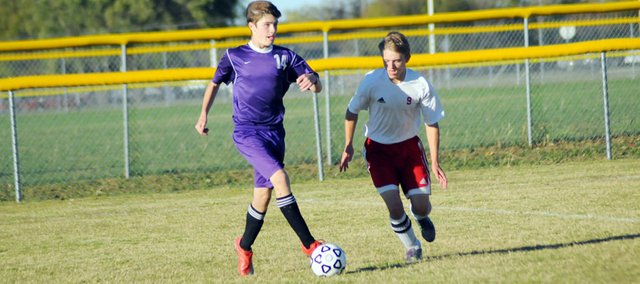 FORT SCOTT —Duncan Murray couldn't have chosen a better time to score his first-ever high school goal.
With 10 minutes remaining in Baldwin High School's first-round regional game here Tuesday, the freshman broke a 1-1 tie with his only goal of the season.
"It feels great to win," Murray said. "It was my first goal this season. It was nice."
Although the Bulldogs added one more goal minutes later to seal the victory, Murray's goal was the game winner. The Bulldogs (9-7-1) defeated Fort Scott 3-1 to advance in the regional tournament.
"That was a very nice win," coach Mark Joslyn said. "That last goal really helped. Duncan's goal was the key goal, but the last one was very nice. Caleb (Michels) made a couple of moves and hit it."
Baldwin's players were excited about the win.
"It's definitely exciting to extend our season and keep playing," junior Caleb Michels said. "I'm tired though."
The first half was a scoreless tie until Baldwin was awarded a penalty kick with 1:47 remaining before intermission. Junior Louis Joslyn booted the PK to give the Bulldogs a 1-0 halftime lead.
"We had a lot of possession and movement toward the goal in the first half," coach Joslyn said. "Then we finally got the PK, and I think it was deserved. At halftime, I was thinking we were going to win 1-0 or 2-0, but Fort Scott came right back. It felt like they had the wind and five other guys on the field. They kept pushing us back, and they made a perfect kick with their free kick."
Fort Scott answered and tied the game 13 minutes into the second half when the Tigers shot a free kick just outside of the goalkeeper box for a score.
"At 1-1, I was preparing for overtime," Joslyn said. "Then we put a couple of nice passes together, and Duncan made a very nice run and was rewarded with a goal."
Baldwin took a few shots before Murray finally connected on his shot. Michels crossed the ball in front of the goal and as it rolled, Murray and the Tigers' goalkeeper raced for the ball. Murray's foot narrowly beat the goalkeeper's arms and the ball rolled into the net.
"Caleb crossed it, and it went past everybody," Murray said. "The keeper came out, and I just chipped it past him. It didn't take a lot of skill or anything, because I just kicked it before the keeper got to it."
Michels scored his goal with 3:07 remaining in the game. He took it from 15 yards out and drilled it past the goalkeeper to secure the win.
"There is a lot of pressure added to these games and that brings the best out of the team," Michels said. "We know we have to step up and score goals to win."
Baldwin will continue its season tonight at Spring Hill. BHS will play the Broncos at 6 p.m. The winner will receive a berth into the state quarterfinals.
"We get one more practice, and the seniors get one more game," coach Joslyn said.