BHS

cross country teams sweep regionals, ready for state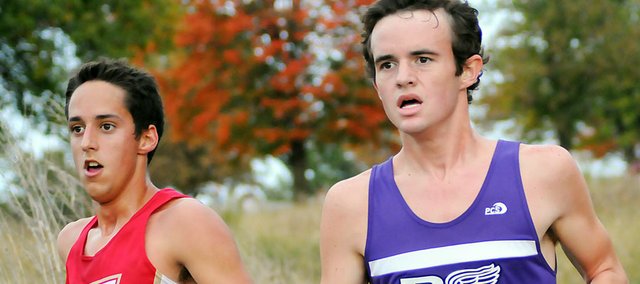 BONNER SPRINGS — It's two titles down and one to go for both Baldwin High School cross country teams.
They cruised to easy first-place finishes Saturday at the Class 4A regional meet in Bonner Springs. The Bulldogs have won the Frontier League and regional championships and now they aim to take state this Saturday.
"Our goal is to get better and keep running better," coach Mike Spielman said. "That's what we want to keep doing. Both teams ran great here today. We just have to keep building on that and hope we can do it one more time."
The state meet will start at 9 a.m. Saturday at the Wamego Country Club. The 4A girls' race will begin at 9:30 a.m. with the 4A boys' race staring at 10:30 a.m. Baldwin is the three-time defending girls' champion. The boys will be trying to unseat three-time defending state champion Mulvane.
"It's all about that state championship," junior Brian Wright said. "We've been set on it since week one. That's our final goal."
Last weekend at the regional meet, the BHS boys' team was one runner from a perfect score of 15 points. De Soto's Angel Vasquez won the 5-kilometer race. The next six spots all went to Baldwin runners as BHS scored 20 points. De Soto finished runner-up with 61 points and Tonganoxie (104) placed third.
"We haven't done that very often," Spielman said. "They did a great job of moving up throughout the race. We also finished the race really well."
Senior Tony Weiss led the Bulldogs, but his teammates were close behind. Following him were junior Brian Wright, junior Tosh Mihesuah, freshman Ethan Hartzell, senior Brandon Baltzell and senior Kyle Garcia. Senior Joey LaBuda finished 13th for the Bulldogs.
"This was easily our best team race overall," Wright said. "Finishing two through seven was awesome. Everybody put out their best effort today. It's never bad to lose to Tony Weiss, because he's a stud."
Spielman said Mihesuah and Wright stepped up and ran their best races of the season last weekend.
"Tosh looked really good today," he said. "I thought him and Brian had the two big races today. Kyle also had a big finish by passing three guys at the end."
On the girls' side, Baldwin had four runners in the top 10. BHS scored 35 points to win the team title. De Soto finished second again with 61 points and Saint James Academy (108) placed third, qualifying for the state meet as a team.
"I'm very happy and proud of what we've accomplished this season," senior Heather Karlin said. "The girls have helped me through everything, and it's the team effort that counts."
Freshman Katie Jones led the Bulldogs with a fourth-place finish. Sophomore Kaitlyn Barnes and junior Elizabeth Sigvaldson followed Jones across the finish line. Sophomore Sienna Durr placed ninth and Karlin finished 11th to round out the top five.
"That's been great all year," Spielman said of the Bulldogs' front pack of runners. "They keep interchanging, but we have that solid pack right there. They may not be first, but it's hard to beat that pack."
Freshman Hannah Hutton (12) and junior Carol Whaley (15th) also placed in the top 15. Karlin and Barnes admitted to being nervous before the race.
"It's always nervous coming into regionals," Barnes said. "I knew we were going to do well, but it's just a matter of getting through the race."
Now the Bulldogs head to Wamego where they will finish their seasons.
"We have all of our little traditions before the state meet, so this is the best week for them," Spielman said. "This is also a really fun week for me, too."
Baldwin High results
Boys
Tony Weiss, 16:24.48

Brian Wright, 16:52.86

Tosh Mihesuah, 17:13.86

Ethan Hartzell, 17:14.17

Brandon Baltzell, 17:27.47

Kyle Garcia, 17:33.27

Joey LaBuda, 17:47.23
Girls
Katie Jones, 15:43.29

Kaitlyn Barnes, 15:46.36

Elizabeth Sigvaldson, 15:50.05

Sienna Durr, 15:57.90

Heather Karlin, 16:21.82

Hannah Hutton, 16:24.71

Carol Whaley, 16:38.55