Caution in costume
Tips for a safe night with ghosts and ghouls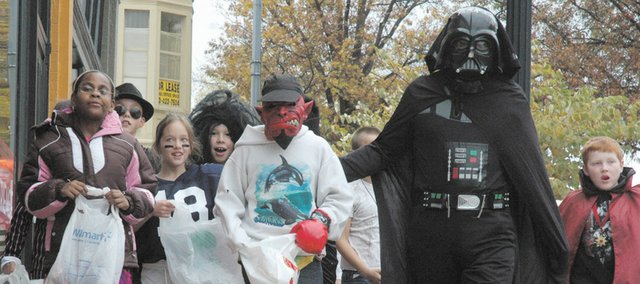 Halloween is an exciting holiday for children, but they can be vulnerable to injury on this night. The Safe Kids Kansas Coalition has these tips to help ensure a safe Halloween for children.
Q: Generally, what rules are recommended for young trick-or-treaters?
A: To ensure trick-or-treaters stay safe, Safe Kids recommends that children always trick-or-treat with an adult until age 10 and only trick-or-treat in familiar areas that are well lit.
Q: What about watching out for traffic?
A: Trick-or-treaters should always cross streets at corners, using traffic signals and crosswalks. They should look left, right and left again when crossing, and they should always walk, not run. When crossing streets make eye contact with drivers and watch for cars that are turning or backing up.
Q: What are the rules for trick-or-treating in the neighborhood?
A: Walk on sidewalks or paths. If there are no sidewalks, walk facing traffic as far to the left as possible, and never dart out into the street or cross in between parked cars.
Q: How about costumes?
A: Children should wear light-colored, flame-retardant, costumes decorated with retro-reflective tape or stickers. They should also wear well-fitting, sturdy shoes to prevent trips and falls, and carry a flashlight or glow stick to increase visibility to drivers.
Q: What is the recommendation about masks?
A: Wear face paint and makeup; a mask can restrict a child's vision.