Bulldogs improve to 7-1 with dominating victory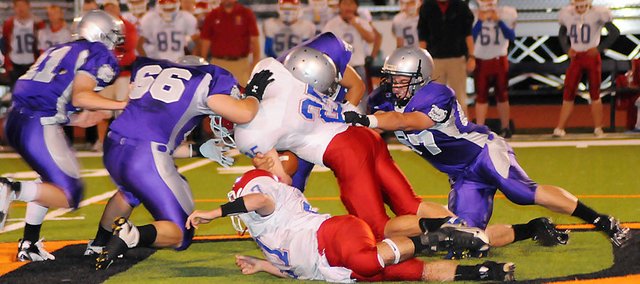 The Bulldogs wasted no time in hammering Santa Fe Trail here Friday night. They won 53-17 to improve to 7-1 and 2-0 in districts.
"Our kids came out and they were focused, just like we knew they would be tonight," Baldwin coach Mike Berg said. "We didn't want to turn the ball over, which we didn't. We wanted to execute."
"It feels good right to be 2-0 in districts," senior Josh Hoffman said. "These last games mean a lot to us. Being 2-0 is great, but we've only got one game that matters right now and that is Eudora next week."
Josh Hoffman broke the second play of the game for 60 yards to give Baldwin High a 7-0 lead. After the Bulldogs' Braden Souders intercepted a Chargers' pass, Ryan Rogers ran 59 yards three plays later for Baldwin's second score of the contest. Baldwin needed only five offensive plays to lead 13-0.
"Our backs are running hard," Berg said. "Our linemen really made some huge holes tonight. I thought they played really well."
Hoffman scored three more touchdowns on the ground Friday night. He also scored on runs of 20 yards and a pair of two-yard touchdowns.
Baldwin will play at 7 p.m. Thursday at Eudora to decide the Class 4A district title. Eudora has won the last two contests against the Bulldogs.
Scoring summary
SFT — 0 0 0 14 – 14
B — 13 21 19 0 – 53
B — Josh Hoffman 60 run (Hoffman kick good)
B — Ryan Rogers 59 run (Hoffman kick missed)
B — Hoffman 2 run (Rogers pass failed)
B — Asher Hannon 27 run (Rogers run good)
B — Hoffman 2 run (Hoffman kick good)
B — Landon Ausherman 2 run (Hoffman kick missed)
B — Hoffman 20 run (Hoffman kick good)
B — Jake Mindez 1 run (Hoffman kick miss)
SFT — Denver Ramsey 1 run (Lucas Wolf Cruz kick good)
SFT — Blade Wright 43 reception from Dalton Abel (Wolf Cruz kick good)