Senior night win over rival Wildcats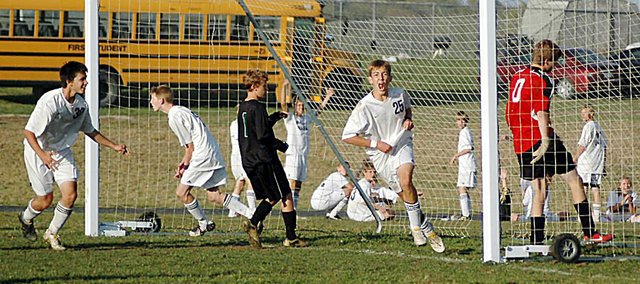 Baldwin High school sophomore Austin Kraus had a career game, junior Clint Chapman scored the winning goal and junior Louis Joslyn had all three assists.
Yet, Tuesday's victory over De Soto was for the seniors. The BHS soccer team (8-7-1) ended a three-game losing streak with a 3-2 victory over the Wildcats on its senior night.
"That was a huge win," coach Mark Joslyn said. "Our last three games were tough, and we didn't play our normal game. Today, things clicked. It's great for all of our seniors to beat De Soto."
His son was also happy to send the four BHS seniors out with a win on their last regular season contest as Bulldogs.
"This is great for the seniors," Louis Joslyn said. "This may be their last time playing on this field. It's good for them to go out with a win."
The win was nice for the seniors, but it was a thrilling one for the entire BHS team. The players' excitement was easily seen at the time expired Tuesday on their home field.
"That was very nice," Kraus said. "This was the first time we've beat them in a long time."
Tuesday's win also meant more than a regular win because of memories of the team's first game this season against De Soto. Baldwin led the game 1-0 at De Soto for 60 minutes, but the Wildcats came back to win the game 4-1.
"It feels great," Louis Joslyn said. "We end a three-game skid with this win. It's nice to get the win before regionals. When we went ahead, we were determined not to let them come back again. Each time they scored, we matched them to take the lead."
Baldwin jumped on top first on Tuesday. Louis Joslyn shot a corner kick, and Kraus used his head to deflect the ball into the next. It was his first header for a goal.
"That was my best one ever," Kraus said. "Louis had a nice kick and I was in the right place."
De Soto tied the game later in the half, and it remained1-1 at halftime. Baldwin didn't wait long to take a lead in the second half. Less than five minutes into the half, Kraus scored off another Louis Joslyn corner kick. This time he kicked it passed the De Soto goalie.
"Austin Kraus had a great game," coach Joslyn said. "He had a nice header for our first goal. He had a very good day."
The Wildcats again answered. They scored on a penalty kick with 24 minutes remaining in the game to tie the score 2-2. Baldwin responded once again. Less than two minutes later, the Bulldogs earned a free kick 10 feet in front of De Soto's goal box.
Louis Joslyn drilled the kick over the defense. The shot was narrowly tipped by the Wildcats goalie. The ball bounced off of his fingertips and off of the crossbar. Chapman charged the goal and booted the ball into the net.
"That is nice," Louis Joslyn said of earning three assists. "I was just telling the guys that we've served in corners all year and not scored off of them, so it's really nice to get two in one game."
The Bulldog coach was happy to see his team score on set pieces, which is something it had trouble defending this season.
"We scored on three set pieces, and they didn't score on any today," coach Joslyn said. "We played good, tough defense on all of their set pieces."
Baldwin just had to hold the lead for 22 minutes. Despite a few shots by De Soto, the Bulldogs held on for the win.
"We've talked all season about how we've had leads and then we kind of start to crumble," the coach said. "They came back and tied the game. Then we got a quick goal to take the lead back. This was a good win, because we hung out and played defense for the whole 80 minutes."
Baldwin's next game will be in the regional tournament. The bracket will be announced Saturday.
"I hope this momentum carries into next week," M. Joslyn said. "I think this might give us a home game. We beat a big-time team today. This will definitely give them confidence and that's what it's all about."