BHS

volleyball sweeps regular season finale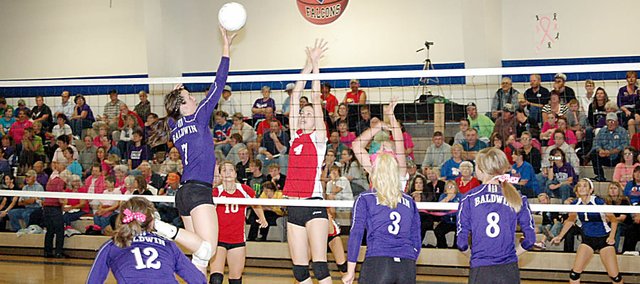 POMONA — Momentum from Saturday helped the Baldwin High School volleyball team finish its regular season with a bang here Tuesday night.
Baldwin won seven of its last 10 matches during the past week to close the regular season playing its best volleyball. The Bulldogs hope the momentum will carry over to this Saturday's Class 4A regional tournament in Topeka.
"We are playing well at the end of the season," senior Ramie Burkhart said Tuesday. "I'm not sure who we play, but hopefully we can go in and at least get one win."
BHS will play De Soto at about 3 p.m. Saturday. BHS is the No. 5 seed, while De Soto is the No. 4 seed. The match will begin 20 minutes after the first match, which will begin at 2 p.m. at Hayden.
"We are playing well at the right time of the year," coach Kelly Brown said. "It should be fun if we play this well Saturday."
On Tuesday, Baldwin made quick work of West Franklin and Santa Fe Trail by winning both matches in two games. Neither opponent scored more than 20 points in a game as BHS won easily.
"The girls played great tonight," Brown said. "They played as well as they did on Saturday. It feels good to end the regular season the way they've played the last two outings."
In the opener, the Bulldogs beat West Franklin 25-20 and 25-17. Then they crushed Santa Fe Trail 25-14 and 25-17.
"In the first match, we did what we had to get by," Burkhart said. "In the second game, it was more upbeat and we played a lot better."
Brown and Burkhart both admitted that the players enjoyed Tuesday night as they played more relaxed and had fun being on the court.
"They had a lot of fun tonight," Brown said. "We talked about it being the seniors' final night of regular season play. That motivated the girls tonight."
They were also happy to win both matches in two games, because they played 18 games on Saturday at the Frontier League round-robin tournament.
"It was really nice winning in two tonight," Burkhart said. "We took all six matches to three games this weekend, so it was very nice to win in two."
At the league tournament, BHS finished with a 4-2 record. The Bulldogs defeated Eudora, Louisburg, Spring Hill and Paola. Their two losses were to Ottawa and De Soto.
"Saturday was a blast," Brown said. "Saturday brought the fun back to the game. I think they just needed to realize that they can have fun while working hard, but it has to go hand-in-hand. They realized that Saturday, and I couldn't have asked for a better day."
While the Bulldogs were excited about their 4-2 record against the league opponents, they were exhausted after the tournament.
"It was ridiculous," Burkhart said. "We had about a one-hour break from 8-5. We were all really tired, but we played through it and won four matches. We actually started finishing games, which is something we've had a hard time doing in the past."
They were also happy to avenge losses from the league contests on Tuesday nights. They beat Eudora, Paola and Spring Hill on Saturday after losing to them earlier this season.
"We went into the tournament knowing that we could do well and everybody is beatable," Burkhart said. "We played hard and finished all of them. It felt good to upset a lot of teams that we lost to on Tuesday nights."
Last Thursday, the Bulldogs played Tonganoxie and Bishop Ward. They beat Bishop Ward, but lost to Tonganoxie. Both matches went to three games.
"We played a lot of ball," Brown said. "We have literally played every other day for the past couple of weeks. We continue to get better and right now is a great time for us to be playing great volleyball."