BHS

football team converts Ottawa turnovers into points in 47-12 victory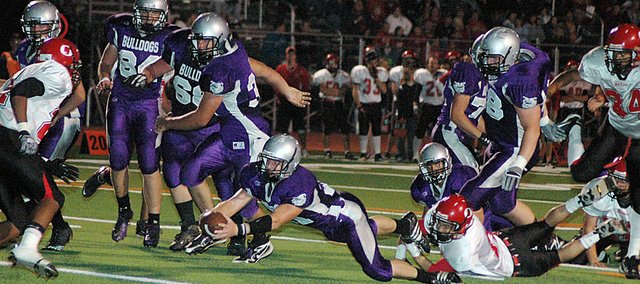 The Baldwin Bulldogs took advantage of a trio of early Ottawa High turnovers Friday to jump out to a quick lead that it never lost.
The Bulldogs (6-1) converted those Cyclones mistakes into first quarter points. They continued to roll over the Cyclones (3-4) and won 47-12 at Liston Stadium.
"This win feels really good," senior Ryan Rogers said. "It's nice to get that first district win. We played a lot better in the second half than we did in the first half."
Friday's game was also the opening district contest for both teams. Eudora and Santa Fe Trail are the other two schools in the Class 4A district. The top two teams will advance to the state playoffs after next week's regular season finale.
"We are just taking things one game at a time," coach Mike Berg said. "We told the kids this is a playoff game and it's a new season where everyone was 0-0. We are 1-0 and very happy."
Berg was also happy the Bulldogs were able to win by at least 13 points. If there is a tie in the district rankings, the first tie-breaker is the point differential in the three games. The most a team can earn for a win or lose for a loss is 13 points.
The point differential came into play in 2008. Baldwin, Eudora and Perry-Lecompton each finished districts 2-2, but Eudora's season ended because its point differential was one point short of Baldwin's for the three games.
"This was important," Berg said. "We got the win and the plus 13 points. It's important to get as many points as possible, as we found out in 2008, when there was a three-way tie for the district crown."
Ottawa turnovers early in the game helped Baldwin win that district opener. The Cyclones fumbled on the fifth play of the game. BHS junior Jake Mindez recovered the ball on the Cyclones' 35-yard line.
Rogers and senior Josh Hoffman marched the ball down the field. Then Rogers threw a screen pass to junior Asher Hannon, who went14 yards for a touchdown to give BHS a 6-0 lead.
On the ensuing kick off, Ottawa fumbled again. Sophomore John McCall recovered the ball on the OHS 19-yard line. Despite two offensive penalties on the drive, Baldwin scored its second touchdown of the first quarter. Rogers scored on an 8-yard run.
"We really worked on that in practice," Rogers said of not committing turnovers. "We worked on holding onto the ball and not committing any turnovers. We wanted to make sure we didn't turn the ball over tonight."
Baldwin scored early in the second quarter to take a 20-0 lead. On a fourth-down-and-2 attempt from the OHS 30 yard line, Rogers threw a long pass to Hannon, who beat his defender down the sideline.
"They were up on our receivers, so we just threw over the top a bit," Rogers said. "That got them off of our receivers, because our guys are fast out there. It felt good to finally throw a couple out there for scores. It was nice."
Ottawa scored with 18 seconds remaining in the half, but Baldwin led 20-6 heading into the break. Baldwin scored touchdowns on its first three possessions of the second half.
The Bulldogs sealed the blowout with a Hoffman 30-yard interception return for a touchdown. Sophomore Dayton Valentine tipped the Cyclones pass, and Hoffman caught it with an open field ahead of him.
Ottawa scored again with 3:57 left in the game, but BHS ran the clock out after the touchdown.
"We still need to tackle better," Berg said. "We missed some tackles tonight. Dydell is a great running back, and one of the best in the league. If you don't wrap him up, he's going to get a lot of yards."
Baldwin will play Santa Fe Trail at 7 p.m. Friday at Liston Stadium. Senior night festivities will begin at about 6:30 p.m.
"It's our last guaranteed home game," Berg said. "We need to take care of business and win our senior night. Every team is going to be tough this time of the year, so we just have to keep fixing our mistakes and getting better."
Frontier League results
Eudora — 51, Santa Fe Trail — 20
Louisburg — 35, Spring Hill – 6
Paola — 70, Osawatomie — 8
De Soto — 56, Bishop Ward – 22
League standings
Louisburg 7-0 (5-0)
Baldwin 6-1 (4-1)
Paola 5-2 (2-2)
Eudora 5-2 (2-2)
Ottawa 3-4 (2-3)
De Soto 3-4 (2-3)
Spring Hill 1-6 (0-5)