Fighting
SIDS
Safe Kids Kansas hopes to raise awareness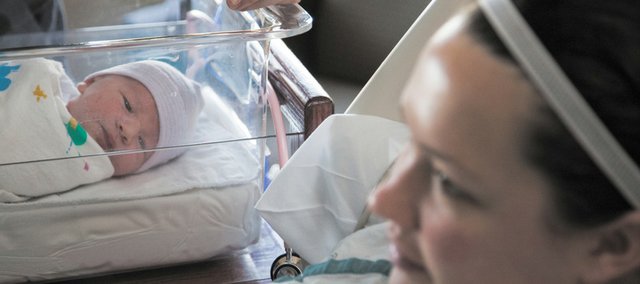 Cheri Sage, state director for Safe Kids Kansas, answers questions about Sudden Infant Death Syndrome, October is SIDS Awareness Month.
Q: What is the best way to avoid SIDS?
A: Babies need to sleep alone, placed on their back, and in a crib. The phrase "back to sleep" has saved hundreds of lives. Within 10 years after public health professionals started teaching new parents to lay a baby on his or her back to sleep, the death rate from SIDS was cut in half.
Q: Is there anything special that needs to be done for the crib?
A: The sleeping surface should be a firm crib mattress and should not have pillows, quilts or stuffed animals on it. For warmth, use infant sleepwear or crib-sized blankets tucked under the mattress so they do not reach above the baby's chest; do not use adult-sized blankets. Crib bumpers are not necessary, but if used, they should be firm, thin and securely tied to the crib.
Q: What about pacifiers at bedtime?
A: Offer a clean pacifier to the baby at bedtime, but do not put it back in if it falls out of the baby's mouth. There is evidence that pacifiers help protect sleeping babies from SIDS, though pediatricians don't know why.
Q: Are there any environmental influences that can lead to SIDS?
A: The American Academy of Pediatrics found a higher risk of SIDS in babies with a high body temperature and recommends that the air temperature in the nursery should be "comfortable for a lightly clothed adult" and the baby should not be overdressed. Also, there is evidence of a higher risk of SIDS in babies who are exposed to secondhand smoke.
Q: Are there any recommendations besides "back to sleep"?
A: Do not rely on any consumer products or medical devices to prevent SIDS. No such product has been shown to be effective, and some are unsafe.
You can find more information about safe sleep in child care at safekidskansas.org.