White House welcoming
BHS

design team champions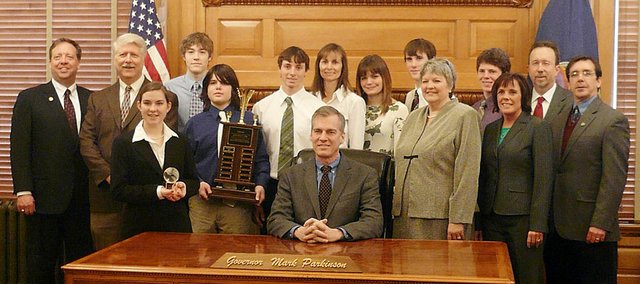 A White House visit and an audience with President Barack Obama are on tap today for four Baldwin High School students who were part of the school's national championship Real World Design Challenge.
Seniors Brandon Baltzell, Carson Barnes, junior Shelby Gregory, and sophomore Carrie Deitz will be at the White House as guests of the president as part of the kickoff to this week's White House Science Fair. Today's events celebrate the winners of a broad range of science, technology, engineering and math competitions.
The White House Science Fair, administration officials said, fulfills a commitment the president made at the launch of his Educate to Innovate campaign in November 2009 to move American students from the middle to the top of the pack in science and math achievement over the next decade.
"If you win the NCAA championship, you come to the White House. Well, if you're a young person and you produce the best experiment or design, the best hardware or software, you ought to be recognized for that achievement, too," the president said in November.
The Baldwin High School Real World Design Challenge Team was named national champions of the design competition in March at the National Air and Space Museum in Washington, D.C. The students modeled new jet designs that reduce fuel consumption
In addition to Barnes, Baltzell, Gregory and Dietz, members of the national championship team were Mason Johnson, Mac Halpin and Austin Kraus.
Along with mentors from the Kansas University Department of Aerospace Engineering, the team had help from Extended Learning sponsor Pam Davis, as well as parent and engineer Sandy Barnes.
The White House Science Fair culminates with the USA Science and Engineering Festival on the National Mall and in 50 satellite locations.
At the White House Science Fair, Obama will view exhibits of winning student projects and will deliver remarks congratulating these students on their diligence, desire to tackle hard problems and drive to invent and discover.