Bulldogs sweep Frontler League team titles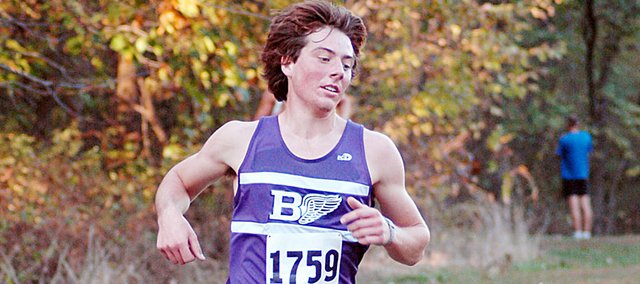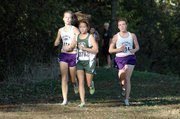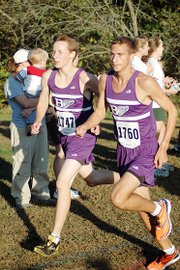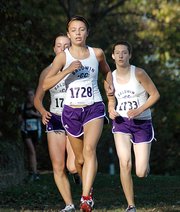 Baldwin High School's cross country teams are back on top of the Frontier League.
A year ago, the BHS girls' team won the league title, while the boys' squad finished third. On Thursday, both BHS teams easily won their respective league championships.
Both Bulldog teams had comparable scores with the girls scoring 22 points and the boys 23 points. De Soto finished runner-up as a team in both races with 43 and 49 points, respectively.
"We did what we needed to do today," coach Mike Spielman said. "We came out, we got after it and got ourselves in there today. We looked relaxed and had a good time doing it. That's what we need to do. Our scores were really low, which is always nice."
BHS senior Tony Weiss won this third-straight league championship. He finished second his freshman year. On Thursday, Weiss used the hills of the Rim Rock Farm course to his advantage as he beat De Soto's Angel Vasquez by 21 seconds. Weiss finished the 5-kilometer course in a time of 16:24.33.
"It's nice to win the team title," Weiss said. "The streak is back."
The BHS boys' team had won more than 10 straight league titles before last year's third-place finish.
A trio of Bulldogs came in after Vasquez. They were junior Brian Wright, freshman Ethan Hartzell and junior Tosh Mihesuah. They placed third, fourth and fifth. The next three Bulldogs also followed each other. Seniors Brandon Baltzell, Kyle Garcia and Joey LaBuda placed 10th-12th.
On the girls' side, Baldwin did win the race individually, but did claim the next four spots. Freshman Katie Jones finished runner-up in the race, with sophomore Kaitlyn Barnes, sophomore Sienna Durr and junior Elizabeth Sigvaldson right behind her.
Senior Heather Karlin was the Bulldogs' fifth runner as she placed eighth. Junior Carol Whaley finished ninth and freshman Hannah Hutton placed 10th to round out Baldwin's top seven runners.
"I was a little worried before the race," Karlin said of the team title. "It's very exciting to win, especially my senior year. It's first on the team goals, with regionals and state next."
The Bulldogs will next compete at the Class 4A regional meet, which will be Oct. 23 at Wyandotte County Park.
There will be a full story with photos in next Thursday's Signal.