Back-to-back league volleyball titles for
BJHS

eighth graders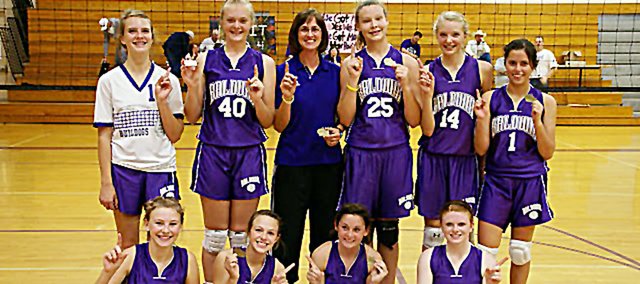 Baldwin Junior High School's eighth-grade varsity volleyball team became the first to win back-to-back Frontier League titles on Saturday. This was the final tournament for the squad, who finished its junior high career with a 38-3 record and four tournament championships (two Eudora titles and two Frontier League titles).
"I can't explain into words how special this team is," coach Brenda Shawley said. "They have worked extremely hard for everything they've achieved and a lot of that comes from the tremendous support of their parents. This is an incredibly talented team and I'm so proud of what they accomplished this year. Every phase of the game was a joy to watch and be a part of. I will miss this group a lot."
Baldwin entered the day as the tournament's No. 1-seeded team and started pool play against the Eudora Cardinals. The Bulldogs came out on fire as they defeated Eudora 25-9, 25-4 and set the tone for the rest of the day.
"I thought it was important that we played well that first match," said Emily Simpson. "I knew it would get us excited and ready for the rest of the day."
Baldwin used a 42 out of 47 serving performance to beat the Cardinals and Simpson was a perfect 12 for 12 from the line. Corey Valentine pounded five kills in the match while Alexia Stein recorded five serving aces.
Spring Hill was the next opponent , but the Bulldogs had not faced them during the regular season this year.
"I was thinking that we were excited about the opportunity to play Spring Hill," said Kelsie Champagne. "Our serving has been key to our success this season and knew it would help us against the Mavericks."
Questions were soon answered as Baldwin won 25-12, 25-16 and was propelled by another strong team serving performance. In the first set, BJHS was 22 of 23 and in the second set they connected on 21 of 23, which totaled a 93 percent effort. Champagne, Molly Ogden, Simpson, Sierra Hall, Maddie Ogle and Valentine went 100 percent serving for the match. Jordan Hoffman owned the net defensively as she recorded a season and team-high five blocks. Hoffman also added four serving aces in the win.
The final match in pool play decided whether Baldwin would play for the league championship and a pesky Ottawa team stood in their way.
"Ottawa always plays hard, no matter what the circumstance," Shawley said. "So I knew we had to be prepared for them making plays and getting the ball over the net quickly to get us caught in transition. Our girls handled it well and made several outstanding plays, as well."
Baldwin won a close match 25-19, 25-19 and secured a place in the championship match. Leading the way for the Bulldogs was Valentine with four kills, while Simpson went 16 of 17 serving. Both Simpson and Hoffman led the team with three aces, as well.
The championship match saw the No. 2-seeded Louisburg Wildcats and the Bulldogs compete for a third time this season. In the previous meeting in September, the squads split, with BJHS winning the first match and LMS winning the second match.
"I was thinking that we didn't play the best that we could have against Ottawa," admitted Alexia Stein. "So, we regrouped ourselves and came out pumped up and ready to play against Louisburg."
Baldwin jumped out to an early lead in the first set winning 25-15 and won the second set for the tournament championship 25-11. Baldwin had outstanding passing and Valentine, Stein and Hoffman were aggressive on offense as they recorded 13 kills, while Hall added three kills in the win. Five players served over 90 percent for the tournament and they were Simpson (98), Hall (96), Champagne (92) Molly Ogden (90) and Ogle (90).
"All year long we've been a great passing team," Hoffman said.

Shawley agreed with her player's assessment.
"It's well-known that if you can pass the ball, you have a greater chance of being aggressive at the net," she said. "This has been an outstanding team when it comes to passing and that really helps our setters get the ball to our hitters."
The Bulldogs finished the season 20-1, 15-1 in Frontier League play and became the winningest eighth grade varsity squad in Shawley's 11-year tenure at the school.