Wildcats nip
BHS

volleyball squad in five games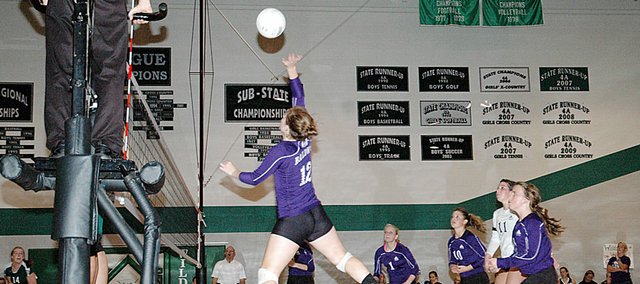 DE SOTO — Baldwin High School's volleyball squad came one point away from picking up a huge Frontier League win here Tuesday night.
After winning the first two games of the league contest, Baldwin looked poised to sweep the Wildcats. However, the third game went into extra points, and De Soto ran with the momentum, winning the match in five games.
Baldwin and De Soto played a close first game until Baldwin took a three-point lead during the middle of the game. BHS maintained the lead and won 25-17.
The second game was much the same. It was close until Baldwin took a 16-14 lead and finished by winning 25-19.
"We played well from the start," coach Kelly Brown said. "We came out and got some great plays in and the girls were disciplined and did their jobs early in the match."
Brown said the Bulldogs used an offensive strategy that worked against the Wildcats' tall middle hitters in the first two games.
"We picked on them offensively," she said. "We knew that they had a weak defense set up down line and our offensive game plan was to hit down line. They finally keyed on it during the third game and fixed their defense a little bit."
The third game was an emotional one for the crowd and teams. Both teams went back and forth until it was tied 23-23. They kept exchanging points and BHS even took a 30-29 lead. Then De Soto won four of the final five points to win 33-31.
"In the third game, we didn't finish the way we probably should have," Brown said. "To go into the 30s, it's something else. It shows that there is fight in these girls and they want to win.
"Their offense finally came alive in the third game. They have two great middle hitters that came alive and we had trouble stopping them."
De Soto ran away with the fourth game, but Baldwin fought back late. De Soto led 21-12 and won 25-21, forcing a fifth and final game.
BHS jumped out to a 2-0 lead in the fifth game, which is played to 15. De Soto rallied back and took a 13-11 lead. Baldwin appeared to make it 13-12, but the Bulldogs were called for reaching over the net.
De Soto scored the winning point on a play similar to Baldwin's illegal touch but no call was made against the Wildcats.
"You shouldn't call that on game point," Brown said. "It's really frustrating for the kids who are really trying to fight all night long. It's hard to leave on that note and have a positive outlook on the match."
On Saturday, the Bulldogs played in De Soto at the Spikefest Tournament. They went 2-2 on the day. They beat Basehor-Linwood and Central Heights, but fell to Spring Hill and Tonganoxie.
"We started out really well against Basehor-Linwood and beat them in two," Brown said. "We went to three against Spring Hill after beating them 25-9 in the second game. We have to capitalize on that big of a win. Central Heights is like De Soto. They have two huge middle hitters, and we hit down line on them. It worked for that match."
Baldwin will play at Tonganoxie today against the Chieftains and Bishop Ward. BHS will also travel to Ottawa to play Saturday morning in the Frontier League tournament.
"We are definitely getting better," Brown said. "De Soto or Ottawa will probably win league, so they are a very solid team. They have some key offensive players who make things happen."