School board hears concerns from patrons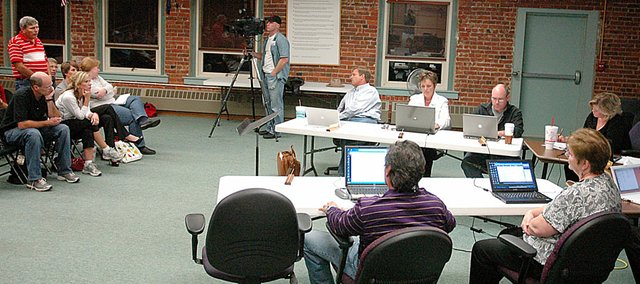 Although there is a public hearing on the issue slated for Nov. 11, more than a dozen Baldwin School District patrons expressed concerns Monday about the possible closing of rural elementary schools.
While the Baldwin School Board didn't discuss the issue, the small contingent of patrons at the meeting wanted their opinions voiced. A total of 17 people stood up and spoke to the school about the subject, most in opposition to closing Marion Springs and Vinland elementary schools.
"Both of them are good schools, and they are paid for," said Charlene Potter. "The buildings have been kept up and, despite what some people may say, they are not ready to be bulldozed. Both schools have great outdoor educational opportunities for the students."
Potter was the first patron to speak up during the public comment at the meeting. She was followed up by six patrons who shared her view. Some of them are worried about increased class sizes if the elementary schools consolidate.
"Your average class size right now is 15 to 18," John Hulce said. "If you put them in together, it will be 24 to 28. Are we raising kids or are we raising cattle?"
Other patrons were concerned about the future of the rural elementary schools, which are part of their family and community lives.
"If you close these schools, I do believe they will never be reopened," Justin Hoffman said. "I know that the country and state are having trouble economically, but I do believe that the country will turn around and budgets will improve."
Some patrons simply asked the school board questions about the topic, despite the school board being unable to answer during the public comment portion of the meeting.
The questions concerned the exact figures to be saved if the buildings are closed, how much it would cost to maintain the buildings, the current utility costs at the two schools and why busing within 2.5 miles of schools was still allowed or free.
A couple of patrons did stand up and speak on behalf of Baldwin Junior High School and Baldwin High School students.
"What concerns me is you guys sit here and always talk about K-5," Amy Carlson said. "What about grades 6-12? Our high school lost 17 students and 11 of them are from the sophomore class. I know this because it's my daughter's class. Four of them transferred to Lawrence and two to Eudora. I don't know about the others. This tells me we are not offering what they want educationally at that level. You need to think about all of the students, not just K-5."
The school board didn't discuss the questions or comments from the public, nor did it talk about elementary consolidation at Monday's meeting. The next school board meeting will be Nov. 8 and the public hearing on the subject will be Nov. 11 at the BJHS auditorium.