Organizers ready for annual Maple Leaf influx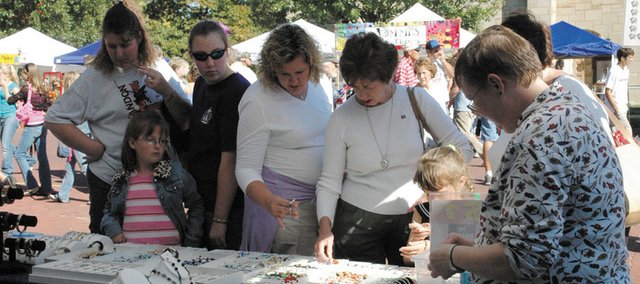 It's that annual time in Baldwin City where thousands of visitors flock to town to shop for homemade crafts, sample delicious foods and view colorful fall foliage.
The Maple Leaf Festival was founded in 1958. City. It's now celebrated on the third full weekend of October. This year is the 53rd annual celebration of the festival.
The Maple Leaf Festival has grown to more than 300 craft booths, a quilt show, music, unique food choices and activities for the entire family. It's the biggest fall family event in the area.
"We are ready for Maple Leaf," said Annie France, MLF committee chairman. "I think we're going to have nice weather, but I hope it turns a bit chilly this next week so the leaves can change colors. It's been so warm they haven't changed yet. They are still very green."
It's true the festival began as a celebration of the colorful fall foliage. However, the festival goes off each year regardless of whether the maple trees have changed colors of lost all of their leaves.
The festival begins when the booths open at 9 a.m. Saturday. Hundreds of craft booths line the streets of downtown Baldwin City and the south and west sides of the Baker University campus.
"This gives people an opportunity to buy gifts for Christmas with the holidays coming up," France said. "It's always nicer to buy a homemade gift."
The unofficial kick off to the festival is the grand parade, which begins at 11 a.m. Saturday. It starts in east Baldwin City, heads downtown and finishes near Baker University the corner of Sixth and Chapel streets. This year's parade is expected to be a large one and last nearly an hour.
Festival organizers used to offer tram rides around the festival, but they've changed the transportation mode the past couple of years. There will still be rides for those wanting assistance around town, but it will be by golf carts.
"We've made an effort over the past couple of years to remove tractor-driver trams and go to golf cart trams," France said. "We've added another one of those this year. The trams in the festival grounds will be golf carts, which are more accessible and easier to get on and off, also easier to drive."
One new addition to the 2010 festival is a food pavilion at the corner of Eighth and Chapel streets, near the Baldwin School District Office. Like all of the other food booths, it's being headed up by a non-profit organization.
"We had a new food booth pavilion down by the Business of Professional Women's group," France said. "That will be down by the district office, near Eighth and Chapel streets. It will be local restaurants that are working in conjunction with BPW, a non-profit organization. It will have a tent so it will give people some shade and a place to rest."
The carnival will also be back this year. It's located on High Street, between Eighth and Ninth streets. It opens from 6-10 p.m. Friday night and at 9 a.m. on Saturday and Sunday.
"The wristbands will be available from the carnival when they arrive," France said. "They should be set up by Friday afternoon. They are $20 and available."
A schedule of the festival can be found online at baldwincity.com.