Louisburg tops
BHS

in battle of unbeatens
Bulldog football team learning from mistakes made against Wildcats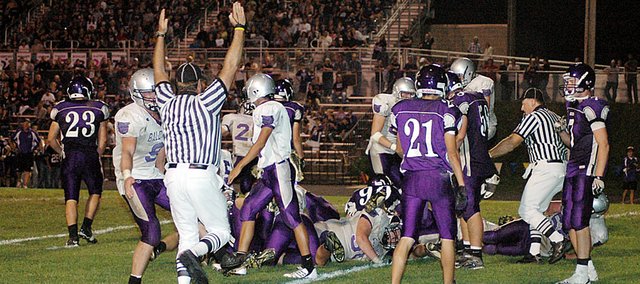 LOUISBURG — Mike Berg is making sure his team learns from their loss here Friday night.
His Baldwin High School football team lost its first game of the season when it fell 42-26 to Louisburg (6-0). The Bulldogs (5-1) are keeping a positive outlook about the loss.
"It's a loss that we are learning from," coach Berg said. "I told the kids that's a game we want to win, but that game is going to make us better, because they found some weaknesses we have and now we are able to correct them.
"Those are things as coaches we hadn't noticed, because we had been doing so well, but when you play a quality team like that, they are going to find some weak spots. We are not happy with the loss, but we are going to get better because of it."
The BHS players agreed with their coach. Junior Jake Mindez said the team's sloppy play became apparent against the Wildcats.
"We got pretty lazy on our technique and footwork against teams that weren't as good," Mindez said. "When you go against a good team, you can't slack on that. I think we are really focused on technique and improving since Friday."
Berg admitted he learned from the loss as well, in particular there was one play early in third quarter he wished he could have back. As Baldwin's offense took the field first after halftime, the team moved the ball nine yards in three plays, forcing a fourth-down-and-1 attempt from its own 35-yard line.
The Bulldogs elected to go for the first down, but Ryan Rogers was stopped in the backfield. Louisburg took over possession of the ball and scored a touchdown four plays later to take a 28-20 lead.
"I wish I had that fourth-and-1 call back," Berg said. "If I had to do that again, I would punt, but hindsight is 20/20. I have some much confidence in our offensive line that if we run that play again, we get it. The Louisburg kid made a great play. If we get that first down, I think we drive down, score and take the lead. We learn from it and move on."
Junior Tyler Brenn said the Bulldogs' offensive line struggled on the play and most of the game.
"We didn't get a push on the line of scrimmage," Brenn said. "We didn't really use our hands or feet. We've gone over a lot of that to correct our mistakes."
After trading three-and-outs, Baldwin threw an interception at midfield, which was returned for a Louisburg touchdown. Baldwin's final turnover was a fumble on its next possession. Louisburg turned the fumble into seven points as it drove 84 yards in 13 plays to take a 42-20 lead.
"Turnovers really hurt us," Mindez said. "We can fix those mistakes."
Baldwin responded with a touchdown drive of its own, but it was too little, too late. Freshman Chad Berg broke a 30-yard run for the touchdown with 1:24 remaining in the game.
"That shows the character of our team," Berg said. "There is no quit in them, and we've seen that all year. We play to the end."
Louisburg began the game by scoring touchdowns on its first two possessions. Baldwin found itself down 14-0 at the end of the first quarter. BHS responded with 14-straight points to tie the game. Both teams exchanged touchdowns before halftime.
"When you're down to a good team by 1 points, what's your team going to do?" Berg asked. "Our team fought back. I'm so proud of them. That is a very good football team that we scored 14 unanswered points on. We had a lot of fight in us Friday."
Baldwin begins district play this week. BHS will play Ottawa at 7 p.m. Friday at Liston Stadium.
"This is a big game," Berg said. "Everybody is 0-0 in the state. Ottawa is really improved. They are 3-3 and playing really well. Their defense is very good. It's going to be a dogfight. We've only had two home games and we have two left. We're happy to be at home and on the turf. It's going to be fun."
Frontier League results
Eudora – 55, Anderson County – 6
Ottawa – 7, De Soto – 6
Paola – 66, St. James – 15
Spring Hill – 22, Valley Center, 19
League standings
Louisburg 6-0 (4-0)
Baldwin 5-1 (3-1)
Paola 4-2 (2-2)
Eudora 4-2 (2-2)
Ottawa 3-3 (2-3)
De Soto 2-4 (2-3)
Spring Hill 1-5 (0-4)