KU

mascots to grace Maple Leaf Festival parade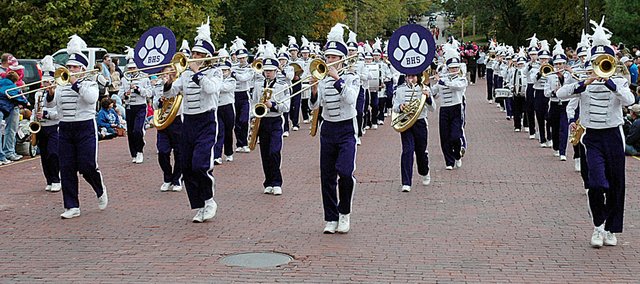 Two special guests from Lawrence will be in the annual Maple Leaf Festival grand parade, which begins at 11 a.m. Saturday.
Kansas University mascots Big Jay and Baby Jay will be making the trek from Lawrence to be in the 2010 fall festival parade, according to Jeremy Rodrock, parade committee chair.
"Big Jay and Baby Jay from Kansas University will be here this year," Rodrock said. "They are going to go through the parade and then after the parade they are going to walk around Maple Leaf. You can get your picture taken with themm and they are going to post those on their Facebook page so you can go and download it for free. That's really exciting. I can't believe how excited they are do be here this year."
With the election coming up in a couple of weeks, candidates will swell the ranks of the parade. The parade usually lasts about an hour and is expected to be at an hour this year, too.
"It's going to be a big parade, because we have the election coming up in November," said Annie France, MLF committee chair. "That's going to make for a nice long parade."
Rodrock said there are quite a few politicians in the parade, along with several new area businesses.
"The parade is going to be a little longer this year for sure," Rodrock said. "We've got a lot entries. We've got several new entries, most of them are new businesses who are trying to promote their business."
Of course, the Maple Leaf Festival parade wouldn't be the same without high school and middle school bands. Approximately the same amount of bands will be in this year's parade, if not a couple more than last year.
"We've got about the same number of bands as usual," Rodrock said. "We are getting a few more bands than we have during the past couple years. I know budget restraints kept some schools from coming before but this year a few are back for the parade."
The 2010 parade theme is "I want to be . . ." France said the theme should allow floats to be decorated in many fun ways.
"People should have a lot of fun with that one," France said. "It should be a pretty easy theme to play with."
It has given groups and businesses a wide variety of ideas to choose from for their floats. Rodrock said the design plans coming back to him were quite creative.
"I don't know what the floats will look like, but as far as the descriptions, people are really running with it and having fun with it this year," Rodrock said. "The descriptions sound very fun."
This year will be the fifth year the parade has traveled in current route, after the Downtown Streetscape Project forced the MLF committee to change the route in 2006. It will still begin at the corner of Third and High streets and head west down High Street. The parade will turn right, or north, on Sixth Street, where the MLF banner hangs above the street. It will end at the corner of Sixth and Chapel streets.
The last wish of the MLF committee is for a sunny Saturday for the parade and festival.
"It's looking good right now, and we are definitely hoping for good weather," Rodrock said. "I think it's going to be a great parade, because it will be slightly larger, and we'll have some new entries."